The Naughts: The Television Show of the '00s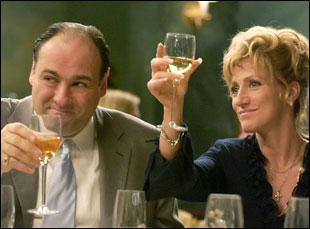 Posted by Nick Schager on
"It's not TV, it's HBO" goes the tagline, and in the '00s, TV was "The Sopranos," a series that not only defined a channel but, more fundamentally, a decade's worth of living-room drama.
When David Chase's series about the titular New Jersey crime family debuted in 1999, it came equipped with a conceit that seemed, dare I say, a tad too cute — a mob boss balancing his two "families," and buckling under the stress of it all? Yet cute was something the program almost never wound up flirting with, instead carving out a position as both a key member of America's controversial modern gangster-fiction canon alongside "The Godfather," "Scarface" and "Goodfellas," as well as the prime example of the small-screen's potential to be an artistic venue equal to that of the cinema.
Ten years ago, no self-respecting critic would have made such a case, but bada bing, at the close of this decade, "The Sopranos"' influence is now so clear, and so monumental, that it can lay claim to having spearheaded an entire medium's golden age.
This isn't to claim that "The Sopranos" is the best show of the decade; in my humble opinion, David Simon's "The Wire" definitively owns that title. But Chase's mob show is unquestionably the one that set us down our current bountiful path, proving from the outset — when it garnered record pay-cable ratings, which further skyrocketed in later seasons — that marrying film-quality writing, acting and directing with serialized storytelling that allowed for truly in-depth characterizations and plotting was a recipe for immense critical and popular success.
Far removed from the '80s soapy serials ("Falcon Crest," anyone? I thought not), "The Sopranos" was an epic fiction unfolding slowly and in immense detail, affording a level of engagement, of immersion in its settings and protagonist's headspace (with Tony Soprano's noggin serving as one of TV's all-time great epicenters of conflict), that many of its cinematic counterparts soon seemed slender and cursory by comparison.
This was exhaustive drama on a grand scale, a long-form novel come to life on Sunday nights. And every show to subsequently employ a continuing storyline, from "Sex and the City" to "Lost" to "Weeds" to "Mad Men," did so primarily because "The Sopranos" proved that audiences were hungry for (and, thanks to the advent and prevalence of DVRs, capable of keeping up with) alternatives to the "Law & Order" stand-alone formula, not to mention the wealth of sitcoms, that dominated the '90s.
To spend years getting to know evolving characters in their unique habitats is now a veritable requirement of TV drama, but that wasn't quite the case until "The Sopranos" began plumbing the deep, dank recesses of its Garden State environment and the nasty, volatile tensions of its mob and domestic family units. Its influence wasn't just the byproduct of its serial structure; it was also due to its canny use of genre, as the show hooked viewers with a seemingly recognizable mob world and then worked diligently to deliver the basic elements demanded by its fans (murders, double-crosses, criminal schemes) while at the same time not-so-subtly subverting and reinventing its conventions to concoct something fresh and exciting.
"Deadwood," "The Shield," "Battlestar Galactica," "Dexter," "24" and countless others have followed "The Sopranos"' lead by embracing bedrock genres and then twisting them into new and daring shapes. In doing so, many of these shows have also attempted to mimic not only "The Sopranos"' violence, profanity and all-around raciness, but its heart and soul, Tony Soprano, through their own brooding, dangerous, ultimately conflicted and empathetic anti-heroes. To concoct a compellingly ambiguous protagonist has become the way to launch a show and, more fundamentally, to give a network its identity, with Showtime hitching a ride on the good guy serial killer series "Dexter" and FX positioning itself as the network of The Shield's corrupt cop Vic Mackey. Even HBO has often tried to duplicate "The Sopranos"' template with shows highlighted by charismatic baddies, from "Deadwood" and Al Swearengen to "True Blood" and Vampire Bill. One might argue that none of these offspring live up to their spiritual mob paterfamilias — and I'd say that only "The Wire" and its immense cast of morally complex, fundamentally human characters is up to the task — but certainly, doing like Tony, Carmela and the rest of their Jersey clan did has been the prime tactic of many an '00s showrunner.
That a basic cable net like FX made its name on provocative continuity-heavy dramas (not only "The Shield," but "Nip/Tuck," "Rescue Me" and "Damages"), that the most critically beloved show on TV is AMC's '50s ad salesman gem "Mad Men," and that the most buzzworthy show of the past few years is a narratively perplexing, multicharacter sci-fi mystery like ABC's "Lost," all goes to show how much "The Sopranos" has affected the current TV landscape. And that's not even taking into account the show's incessantly imitated habit of killing off beloved main characters, which has become so de rigueur that showrunners now spend inordinate amounts of time misdirecting audiences away from surprise cast member assassinations.
Nor does it factor in the "Sopranos" finale's abrupt cut-to-black, a moment of formal and thematic audaciousness that incensed those fans who tuned in primarily for straightforward mob shenanigans, and thrilled those who recognized it to be merely the last of the show's myriad daring cinematic gestures. Above all else, however, "The Sopranos"' enduring legacy is likely that, by proving the viability of bold, boundary-pushing, mature small-screen drama, David Chase's landmark show has made cable the dominant realm of cutting-edge TV. After a decade of killings, it seems that Tony's greatest whack may have been perpetrated on network television's creative supremacy.
This feature is part of the Naughts Project.