The Naughts: The Romantic Pair of the '00s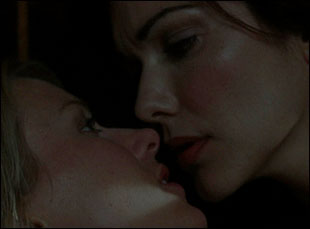 Posted by Charles Taylor on
I knew what she looked like by heart this time.
That scrap of newspaper she was on should
have been worn ragged by now, the number of
times I'd pulled it out and looked at it when I
was alone in the place.
— Cornell Woolrich, "The Black Angel"
It's the fear as much as the tenderness. It's the desperation in the way they clutch hands in a darkened theater, and the sensuousness in the way they caress each other in bed. It's the contradiction of having found yourself by stepping into a mystery, and the cruelty of discovering that the heaven of love is a gossamer skein stretched over a black hole. "And the mysteries of love come clear," is the way David Lynch put the paradox in the song he wrote for "Blue Velvet." Those mysteries have never been as heartrending in Lynch's work as they are in his 2002 dreamtime noir "Mulholland Dr."
Love, for David Lynch, is convulsive or it's nothing. Adolescents, and those capable of living with the adolescent's self-dramatizing intensity, are the characters for whom he has the greatest affinity — think of Donna and James in "Twin Peaks"; Jeffrey and Sandy in "Blue Velvet." If surrealism is the way Lynch naturally sees the world, then the kind of romance that makes you feel so alive you think your heart is going to stop, the kind lived out by Natalie Wood and Warren Beatty in "Splendor in the Grass," is the natural way Lynch thinks of love.
And because that kind of love doesn't last, every pair of Lynch's lovers is threatened. In their self-constructed world they're like Moses' burning bush, awash in flame and not consumed. They're hunks-a, hunks-a burnin' love, and yet it's not Elvis's voice we hear watching them, but a far quieter, more worried one, that of Gary Troxel, lead singer of the two-girls-and-a-boy trio The Fleetwoods. "Outside my window/You're walkin' by with someone new/Outside my window/The way I used to walk with you," Troxel sang in 1960, a spectator doomed to seeing his perfect love unravel.
The heartbreak of "Mulholland Dr.", the reason its romance is the decade's most emblematic, is seeing a love that has already unraveled achieve the perfection of dreams. Naturalism and quirk seeped throughout indie film, studio love stories seemed to take place in an artificial alternate universe — but "Mulholland Dr." spanned both while being neither.
Betty (Naomi Watts) and Rita (Laura Elena Harring), Lynch's most wounded, beautiful and endangered true hearts, are the transfigured phantoms of the romance turned deadly for Diane Selwyn (Watts), a failed actress who has had the added injury of seeing her lost love Camilla Rhodes (Harring) have all the success she hasn't. Diane is hungry, and it's Camilla's world. Their interactions have the awful indignity of a dead love affair, desire being answered not by desire but by a feeling of responsibility.
And yet before we know any of that, we feel the stars have gone out of alignment for Betty and Rita. In most stories of doomed love, the young lovers face a world in which they, the eternal they of the outside world, don't understand. Lynch's lovers are against something cosmic and unidentifiable. In "Mulholland Dr.," Betty and Rita are often framed against darkness so soft and velvety it's like a hovering nimbus, ready to swallow them if they awake from the film's dream. And when they are swallowed, when smoke fills the frame as if the sulfur of hell itself were obscuring our vision, we feel as if not just a romance has been broken, but the beauty of the world has been cursed.
"Have you ever done this before?" Diane asks Rita as, scarcely believing it, she finds herself in the arms of another woman. The insomniac Rita's answer, "I don't know," is a sleek joke. But their sex doesn't matter. Neither one of them has done this before, throwing themselves into the kind of love affair where every kiss feels as if the universe is opening before you. And yet the universe is closing down on them, too.
What's beautiful and what's threatening here is all of a piece. Noir is the most seductive of genres because the things we associate with it — darkness and shadow, rain-slicked streets, cigarette smoke, women at their most beautiful and desperate and treacherous — invite us to revel in the sensuousness of movies. You feel that here when Rita gazes on a poster of "Gilda"; when she and Betty sit in that rundown theater, the place seeming to emit the perfume of decay, listening to Rebekah Del Rio's heart-stabbing version of Roy Orbison's "Crying"; when a sleek limo glides along dark canyon roads against a mournful wash of strings; when, working like diligent detectives to uncover the mystery opening up before them, Betty and Rita are alive with the glamour that only danger can confer.
And because the fatalism of noir promises the terror (the thrill?) of seeing it all dashed, eroticism and dread are fused.
Betty and Rita aren't just figures in Diane Selwyn's dream but in our dream as well, the collective dream the movies encourage us to lose ourselves in, the dream of peril and romance and sex and mystery. In "Mulholland Dr.," the movies have become so much a part of the air that they are literally the stuff of dreams, the place we'd rather live.
When I first saw "Mulholland Dr.," I emerged into Times Square at night and nothing looked right to me. Corners weren't squared, the lights and neon and traffic and crowds wouldn't cohere into a visual pattern that I could make sense of. The world I'd just left seemed more real. In that dream of love and danger, Betty and Rita, the light angel and the dark angel, are the presiding spirits, two Nancy Drews become love's keepers of the flame.
This feature is part of the Naughts Project.