The Naughts: The Buddy Pair of the '00s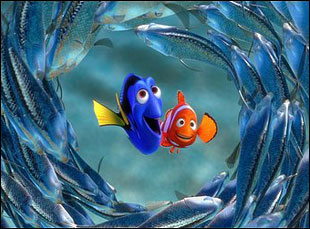 Posted by Matt Singer on
Nobody in the film business has had as good a decade as the folks at Pixar Animation Studios. They released seven films in ten years, all of them box office hits, all of them critical successes. Four of them won Academy Awards for Best Animated Feature (and the past summer's "Up" stands a good chance to make it five).
Because of the studio's incredible run of creativity, Pixar filmmakers are often asked to explain the secret of the company's success. In an interview with Movie City News' David Poland, "Finding Nemo" and "WALL-E" director Andrew Stanton cited a meeting the company's brain trust held shortly after the release of "Toy Story" to assess exactly what went right that time so that they could be sure to repeat that formula in the future. As Stanton explained it, "We felt that it was a weird, perfect symbiotic combination of there [being] one visionary and it was John [Lasseter]… but conversely, John was incredibly open to [asking] 'What does everybody think?' and created about the most egalitarian atmosphere that you could with a system that needs a dictator."
In other words, Pixar movies are the product of a singular artistic vision supported and refined through teamwork. And without coincidence, most Pixar films are testaments to the power of the team. They're stories of singular characters learning to work in a group and to improve themselves through collaboration with others. Typically, a self-obsessed main character encounters a situation they can't conquer alone; only by learning the value of friendship and cooperation can ultimate success and happiness be achieved. "Up"'s grumpy Carl Fredricksen fulfills his dream only when he learns to appreciate the companionship of Russell. In "The Incredibles," Mr. Incredible resurrects his moribund superhero career and family life when he stops going on secret adventures and starts including his loved ones on his masked escapades. In essence, Pixar makes movies that validate the way that Pixar makes movies.
Pixar's greatest financial success to date (and, arguably, their most complete artistic achievement as well) is Stanton's "Finding Nemo," the studio's most affectionate portrait of friendship and its most effective paean to the power of teamwork. After losing his wife and the rest of his children to a barracuda attack, clownfish Marlin (Albert Brooks) lives in a constant state of fear about what could happen to his son Nemo (Alexander Gould). After Nemo is captured by a scuba diver, Marlin leaves his coral reef home and ventures out into the open ocean to rescue him. Early in his journey, he bumps into a forgetful regal tang named Dory (Ellen DeGeneres). Together. they brave shark attacks, jellyfish swarms and fishermen to reach Sydney, Australia and, as the title promises, find Nemo.
Before Marlin meets and learns from Dory, he's ill-equipped for such a search and rescue operation. As Stanton eloquently explains on the "Nemo" DVD commentary, the Marlin at the start of the film is so obsessed with his sad past and so terrified about his uncertain future that he's entirely incapable of living in the present. This makes Dory, the fish whose bad memory means she can only live in the present, the perfect companion and tutor on this voyage. Marlin is afraid of every obstacle; Dory doesn't know enough to be scared. Marlin sees a whale's mouth half-empty with water; Dory sees it as half-full. Her fearless, endlessly positive attitude gets the pair into trouble, but it's also a big reason why Marlin can teach Nemo.
In the world of classic Disney animation, opposites commonly attract each other in a romantic way. That's the core of the chemistry in Disney films from "Cinderella" to "The Little Mermaid" or "Aladdin." In the world of Pixar, opposites like Marlin and Dory attract in a platonic way, as seemingly mismatched friends who have very different but very complimentary skills, and though "Finding Nemo" is ultimately a story about fathers and sons, the film's most emotionally devastating moments are the ones that test the bonds between great friends. In the one that always makes me cry — yeah, you heard me, I cry at the cartoon fish; at least I'm not dead inside — Marlin mistakenly believes Nemo is lost for good and tells Dory to stop following him around. In a heart-wrenching monologue, Dory pleads with Marlin in a beautiful ode to the power of friendship. "I remember things better with you!" she says. "I remember it, I do. It's there, I know it is, because when I look at you, I can feel it. And I look at you, and I… and I'm home."
So much of "Finding Nemo" is about the process of helping others, and it's not limited to Marlin and Dory's storyline. In an Australian dentist's aquarium, Nemo learns about life from the other tank's denizens, particularly a fearless fish named Gill (Willem Dafoe) with a physical impediment that mirrors Nemo's own. To reach Nemo, Marlin and Dory need the advice, directions and support of some sea turtles, a whale and a pelican. And in the film's big climax, when Marlin allows Nemo to place himself back into danger in order to save Dory from a fishing net, success can only be achieved as a group working in unison toward a common goal (i.e. everyone swimming down against the net to snap the cord connecting it to the fishing boat). Dory's previously naïve-sounding slogan — "Just keep swimming, just keep swimming!" — becomes the rallying cry that saves everyone.
A Pixar movie takes several years and several hundred people years to make. In the case of "Nemo," Stanton began writing material six years prior to the film's release, and later spent a full two years tinkering with the screenplay. But he wasn't working by himself; he was collaborating with his co-director [Lee Unkrich], co-screenwriters [Bob Peterson and David Reynolds] and the Pixar story department. Later, the animators were brought in to bring the first team's vision to life, by bringing their own ideas and creativity to the project. Working toward a common goal, swimming together, they made something very special.
This feature is part of the Naughts Project.