The Naughts: The Documentary of the '00s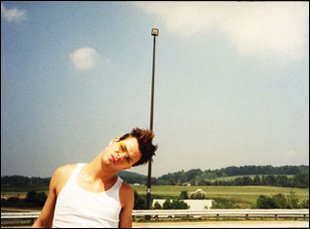 Posted by Aaron Hillis on
Sometimes superlatives need to be slung, such as when speaking of the richest, most ambitious and exciting decade yet for nonfiction film — and, really, what other variety could back up that boast? To nail down a single doc as the preeminent work that typifies these years is no easy task, especially since the best of the bunch attacked specific subjects with laser-like precision and idiosyncratic techniques. (Sit tight, the lede is about to be buried.)
The '00s legitimized the allure of the "pop doc," a trend that shoehorns potentially lackluster material into glossy narratives. Spelling bees were transformed into suspense thrillers ("Spellbound"), quadriplegic rugby players did their own stunts ("Murderball"), tangoing kids got their dance-off ("Mad Hot Ballroom"), a reckless but beautiful feat of derring-do was reenacted like a heist procedural ("Man on Wire"), and a PBS-style nature film became a blockbuster saga of familial survival ("March of the Penguins"). Who'd have thought, way back in the '90s, that documentaries could one day hold their own at the multiplex?
In fact, one even surpassed the $100 million box office mark and became the first doc in a half-century to win the Palme d'Or at Cannes: Michael Moore's "Fahrenheit 9/11," an unprecedented take-down of a U.S. presidency still in power. Being comfortably waist-deep in the Information Age, empowered activists, muckrakers and other truth hunters were let loose to meticulously research and address the quandaries of globalization ("The Corporation," "Mondovino"), consumerism ("Super Size Me," "Czech Dream"), environmental disaster ("An Inconvenient Truth," "Darwin's Nightmare"), the media ("Manufacturing Consent," "Outfoxed") and whatever else ails us. Sure, we now had Google, Wikipedia and other accessible means to quickly click and uncover how people were getting screwed, but through cinema — and often with that aforementioned pop-doc sheen — wider audiences were being reached.
No topic was off limits any more, which brings us swerving back to the argument at hand: what doc could possibly define this prolific era? My personal favorite, Werner Herzog's "Grizzly Man," certainly took a bold new direction by discovering lyricism in troubled nature lover Timothy Treadwell's found footage and simultaneously disagreeing with the environmentalist while mythologizing him. That eccentric profile shares one of the most fascinating and potent qualities that ran rampant this decade, which could be illustrated with a joke: How many documentarians does it take to screw in a light bulb? Four; one to hold the bulb, one to hold the camera, one to film that cameraman, and one to film himself discussing the other three.
Self-documentation was one of the defining behaviors of '00s cinema — as was the do-it-yourself kick of indie culture — which is why Jonathan Caouette's ingenious 2004 doc "Tarnation" should stand as the poster child for the '00s. Infamously made for only $218, Caouette's near-unclassifiable portrait of his schizophrenic mother Renee LeBlanc and his own tumultuous childhood sculpts powerful material with a strangely autonomous methodology. A haunting kaleidoscope of old Super-8 home movies, family photos, reenactments, teary-eyed confessionals, answering machine messages, campy underground films and all the effects that year's version of the iMovie software had to offer, "Tarnation" alternates between poetic memoir, psychodrama and an imagined horror flick as co-directed by David Lynch, Stan Brakhage and Jack Smith. It's an appropriately avant-garde approach to a surreal, real-life nightmare.
LeBlanc was a child model in the '60s, but after a rooftop injury and the depression she subsequently experienced, her parents signed off on her shock therapy treatment, which the film suggests is actually what instigated her mental illness. Caouette was shuttled between abusive foster parents and his overwhelmed grandparents, came of age as a gay man in a conservative environment, developed a dissociative disorder after trying pot for the first time (unknowingly smoking two joints laced with PCP and dipped in formaldehyde), watched his mother get raped, and somehow bounced back as a young thirtysomething after his childhood spent in hell. Simply making the film and piecing together these events that shaped the director's character must've been cathartic, and that feeling is heartbreakingly palpable.
Other successful docs this decade turned their cameras on their families and themselves ("Capturing the Friedmans," "51 Birch Street"), but the more shameful, look-at-me narcissism of the YouTube generation could stand to learn more from Caouette's pragmatism than his naked vulnerability. After all, does anyone really need every navel-gazing exhibitionist with issues blabbering into a webcam and trying to call it cinema? "Tarnation" embraces and outright stylizes its compromised aesthetic, so that degraded VHS recordings are mutated into the lush psychedelic images of an addled mind through fragmentation and filters, but stops shy of exploiting LeBlanc's madness by granting her the empathy she deserves for allowing herself to be filmed. Caouette not only seems as hyper-conscious of the film's budgetary concessions as viewers are, but then utilizes that unspoken awareness to remind us how personal and handmade the project is. A throughline could be drawn to both Harmony Korine's art-prank "Trash Humpers" and the hugely profitable, P.T. Barnum-like fraud "Paranormal Activity."
In short, the "Tarnation" experience is and should continue to be sampled as a gateway drug to more progressive DIY cinema in the next decade, whether they're tales of LGBT empowerment or autobiographical reinventions and other crafty genre hybrids. This is a film that ably demonstrates how personal demons can be exorcised in the form of art, entertainment, self-analysis and kept record all at once, and for relatively no money — which is perfect considering none of us have any right now anyway.
This feature is part of the Naughts Project.