The musical coincidences of "Up in the Air."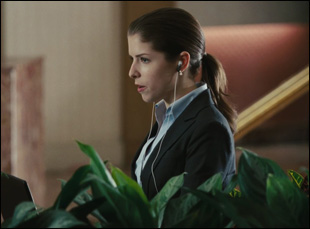 Posted by Stephen Saito on
Director Jason Reitman has famously created a pie chart of all the repeat interview questions he's been receiving as he's been on the press circuit for "Up in the Air." But it isn't only the questions that he or audiences will hear over and over again. Here's a quick primer on the many music-related coincidences that have cropped up with regard to his latest film, along with the one thing that can't be replicated:
There will be two Ryan Binghams this awards season.
Not only is it the name of George Clooney's plucky protagonist, but Ryan Bingham also happens to be the real-life musician who penned tracks for the hard-charging Spirit nominee and Oscar hopeful "Crazy Heart." Although the gravelly-voiced frontman for the Dead Horses appears in the Jeff Bridges drama as part of down-on-his-luck country singer Bad Blake's backup band, it's the songs that Bingham co-wrote with "O Brother Where Art Thou" music mastermind T Bone Burnett, including the film's theme, "The Weary Kind," that give an extra weight to Bridges' acclaimed performance and have a shot at hanging around in the spotlight until February 22nd.
Iggy Pop's "The Passenger" has become the anthem of successful, but emotionally stunted middle-aged men everywhere.
Blame this on the Paramount marketing department, but those buoyant "La La La La Lalala La"s have turned the 1977 track off "Lust for Life" into the tune of choice for ads trying to sell audiences on dramedies about men of a certain age caught between the pressures of their professional and personal lives. (And the marketers at Paramount are feeling such pressure themselves, pouring hours into "Air"'s campaign.) If the "Up in the Air" ads seem familiar, it's because Paramount tried the same trick with the equally bittersweet Nicolas Cage character study "The Weather Man" four years ago. Granted, in this case, "The Passenger" makes a little more literal sense.
Young MC is collecting some big royalty checks this fall.
Not since the summer of 1989 has "Bust-A-Move" been so prevalent. If you've seen "The Blind Side," you know that the song underscores one of the film's big turning points, despite the fact that it would have been unlikely to hear on a car radio during the early '00s, when the Sandra Bullock starrer is set. But Reitman went so far as to call in the rapper to hold court at a corporate retreat crashed by Clooney and Vera Farmiga for one of the film's most exuberant scenes. The good news: It looks like Marvin Young kept the weight off since he appeared on "Celebrity Fit Club 3."
One name you probably haven't heard of is Kevin Renick.
The one track on "Up in the Air"'s soundtrack that's inimitable is Renick's, the St. Louis singer/songwriter who was one of the many unemployed who talked to Reitman before production started on the film. During a Q&A at Webster University, Renick handed Reitman a cassette with a song called "Up in the Air," a lilting ballad that shares a passing similarity to the last artist the director championed in "Juno," Kimya Dawson. Reitman joked in Toronto that he had to scramble to find something that would play the tape, settling on the cassette deck in the car of a P.A., but even in cramped quarters, he chose the song to play over the closing credits because he felt it was "authentic."
[Photos: Anna Kendrick in "Up in the Air," Paramount Pictures, 2009; Kevin Renick]