Can you build a business off of movie clips?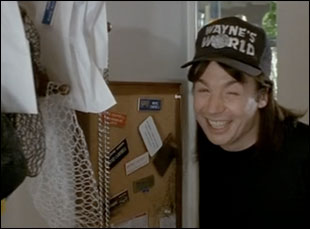 Posted by Vadim Rizov on
My friend Theo Panayides once proposed that "Mulholland Drive" acts as a series of "semi-narratives one can revisit more or less at random, like putting on a CD."
That was eight years ago. These days, the CD is dead but the idea of movies as discrete bits lives on, on YouTube, where you can find popular scenes before studio lawyers take them down, or, better yet, compiled into "greatest hits" compilations (like this "Gran Torino" one). Because, let's face it: your average viewer doesn't want to sit through all the dramatic, expository stuff more than once. You want to skip rights to the fireworks and LOLs.
I'm not immune; sometimes you just want some funny stuff to power you through your lunch break. So I'll give the recently beta launched MovieClips.com the benefit of the doubt, despite some major conceptual hiccups.
CEO Zach James says "It's pretty cool to be able to send a clip from 'Sixteen Candles' to my sister on her birthday, or a 'Wayne's World' 'Party on!' clip to my friends on a Friday night." Well no, sending "Wayne's World" clips on a Friday night isn't particularly "cool" by any definition I'm aware of, but I get what he's saying.
There is, of course, the ever-present danger of that self-proclaimed "hilarious guy" everyone knows playing a clip of something and then re-enacting it as it streams — but, thank god, there are no selection from "Anchorman" available. At least not yet.
A cursory perusal of the MovieClips.com selection reveals a paucity of older films, even the cool, grimey '70s ones — what I wouldn't give for the original "The Taking of Pelham One Two Three" or one of Charles Bronson's '70s sneers. I'm skeptical, too, of the idea that the site'll revive back catalogue DVD sales; if you can have all the cool bits for free online, why buy the DVD? But certainly a stable base of clips that won't get pulled at any moment for future reference/amusement is a good thing. For example: here's a clip from "Igby Goes Down" — the most underrated faux-screwball comedy of the aughts — that was once on YouTube and now isn't. It's about how vegetarians roll wussy joints:
[Photo: Party on. "Wayne's World," Paramount Pictures, 1992]