Why "Paul Blart" may be the most important film of 2009.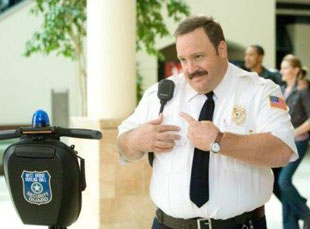 Posted by Vadim Rizov on
Our friends over at the newly launched Film Salon have been posting entries from different writers on what each considers the most important film of the decade. (I'm a contributor.) In the same spirit as, say, Michael Tully arguing for "The Real Cancun," let me offer up a proposition: "Paul Blart: Mall Cop" speaks for 2009 like no other movie.
That's not to say it's a good film, or even a competent one. Under the helmsmanship of the ever-regrettable Steve Carr ("Dr. Dolittle 2," "Daddy Day Care" and — ultimate insult — "Next Friday"), it's crass and poorly paced, a "Die Hard" homage for the PG "Ouch! My Balls!" set. Blart (rhymes with "fart," something you can't help but think was on the screenwriters' minds), as embodied by Kevin James, is a big ol' tub of New Jersey lard, complete with an '80s relic mustache, and there's nothing particularly lovable about him. Nor can much be said for the uncolorful villain (Keir O'Donnell) or the one-man-versus-all stuff. And the eyelines don't match! In every respect, this is one terrible movie.
On the other hand: this is "Dawn of the Dead," only the protagonists are the zombies, unaware they're unaware. I love Romero's movie, but that has a lot more to do with how well-made it is than any complex "critique" it's offering about mall culture (which is pretty self-evident).
"Paul Blart," on the other hand, thinks it's good clean family fare, which makes it revealing. With the exception of the villain, crew and token hot chick to be won over by Blart (Jayma Mays), everyone here is fat, out-of-shape, working a minimum-wage job with no prospects for advancement and deeply pissed off about it; an alleged comic highlight is Blart having the crap beaten out of him by an over-enraged fat woman. A world outside shoddy suburban homes and stifling mall culture doesn't exist; the jobs are sedentary, the intellectual stimulation nil.
"Paul Blart"'s a movie for the recession economy, filmed in a world full of crap being protected by people who can't afford to buy any of it. It's unapologetically suburban (filmed in Massachusetts, set in New Jersey) and absolutely marginalized. Its main locales are functional: Blart's mess of a home, the bank within the mall where checks are deposited, and the horrific T.G.I. Friday's type restaurant the holiday party takes place at. It is, in short, incredibly depressing and zero fun whatsoever.
None of which the film seems to recognize. And, of course, its outsize success — combined with its dismal reviews — led to some conservative soapboxing about how this is a real American movie, not that effete nonsense critics like. Which is in itself part of the zeitgeist!
My point here is that "Paul Blart" is as ugly and misshapen as the year it's part of. Future scholars could study it just as rigorously as, say, ugly '50s anti-Communist paranoia or '60s movies featuring dudes with sitars. No joke.
It's still a terrible movie, though.
[Photos: "Paul Blart: Mall Cop," Paramount, 2009]