Most hilarious music video of the Naughts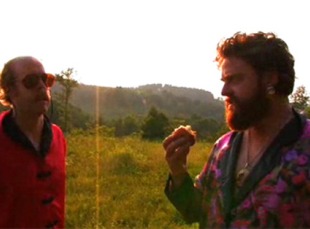 Posted by Brandon Kim on
Zach Galifianakis lip synched in a Fiona Apple video 2 years before appearing in Kanye West's remake of his "Can't Tell Me Nothing" video, but it wasn't that funny and any points Kanye and crew lose for being copy cats they more than make up for in hilarity. The presence of Appalachian folk punk Will Oldham fully blows out the proceedings.
It's an odd kind of marketing scheme when making fun of your product is what seems to sell it with a certain take-nothing-serious crowd. I find myself liking the song more after associating it with the zany duo so I'm not above it. I would never have found the song appealing had I only viewed the original video. Zach and Oldham took a mediocre song with a confused message and a pretty refrain and made it into some kind of weird farmland fantasy. I love turd.
2007 "Can't Tell Me Nothing" by Kanye West with Zach Galifianakis and Will Oldham.

Over this generally wretched decade there actually lots of hilarious music videos, and I'm certain I did not see them all, especially since I spent most of the first half of the Naughts away from a computer, out in the world. But here's some others that came to mind, probably too tilted toward recent events and comedy troupe The Lonely Island which kind of owned the hilarious viddy market.
2009 "Like a Boss" by The Lonely Island with Seth Rogan.

2006 "Dick In A Box" by Justin Timberlake and Andy Samberg (& The Lonely Island crew).

2009 The Ballad of G.I. Joe by Daniel Strange & Kevin Umbricht

And let's not forget the Chronic(what?)cles of Narnia!
"Lazy Sunday" by The Lonely Island and Chris Parnell

Thanks Daniel !