Highlights from Michael Madsen's magical 2009.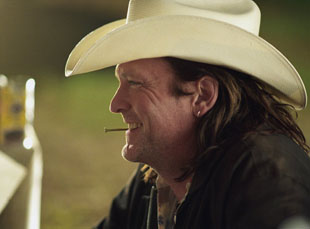 Posted by Vadim Rizov on
There's a hilarious account in the Guardian of everything went wrong during the shooting of "The Big I Am," an upcoming British gangster drama.
The best parts involve one of its big name stars, Michael Madsen, who arrived "insisting all costume department mannequins be turned to the wall lest he be spooked by the wigs," then refused to do his big death scene properly. Instead, he "made up a poem… about the nature of true love," sang "Green, Green Grass of Home" on the next take, and on the final take screamed into the camera "Am I fucking dead enough for you now?"
Ever wonder what happened to Madsen since his critically acclaimed comeback turn in the "Kill Bill"? Well, a man can't collect too many paychecks, especially if he's not picky about where the funds are coming from — IMDb lists a staggering 18 credits from this year alone. Here are seven of my favorites from Madsen's 2009.
"Lost In The Woods"
Michael Madsen is… Stuart Bunka
Tagline: "Just When You Thought It Was Safe To Go Back In The Forest!"
Plot: Seemingly inspired by Barry Levinson's 1992 flop "Toys," this family film stars Madsen as the self-proclaimed "greatest toymaker in the world." His key invention: "The Facilitator," which apparently includes miniature grenade launchers and little UFOs that place exploding cigars in the mouths of your opponents. When his daughter is kidnapped and the criminals demand two million dollars for her release, some kids wage war against the "Home Alone"-dumb criminals, presumably using Bunka toys. Also, laxatives lead a kidnapper looking for relief to get bit in the ass by a snake. And they put fireworks in the bad guy's pants.
Key Madsen Line: "No matter who your enemies are or what the odds against you, with the Facilitator you're gonna win or I'm not Stuart Bunka. Bunka Toys."
"You Might As Well Live"
Michael Madsen is… Clinton Manitoba
Tagline: "Robert Mutt is not a douche bag."
Plot: Robert Mutt (Joshua Peace) has tried to kill himself multiple times and leaves the mental asylum after beating his doctor at air hockey. The community thinks he's a pedophile and loser, so he sets out to prove himself with help from his hallucinated friend, Clinton Manitoba, former farm-league baseball great. A Canadian comedy that was well-reviewed in Canada, this one seems to drink heavily from the "Napoleon Dynamite" well.
Key Madsen Line: "Fuck the internet." Response: "Right in the face."
"The Killing Jar"
Michael Madsen is… Doe
Tagline: N/A
Plot: Sheriff, ominously: "There's been some murders over in Union County." Waitress: "What kind of person kills a child?" Enter Madsen, who takes the diner's occupants hostage and begins getting some seriously violent action going, shooting folks point blank with deer-killing-caliber bullets. His hostages, incidentally, include some serious direct-to-video bait: Danny Trejo (who deserves better) and Jake "son of Gary" Busey (who doesn't). This is one of like 30 movies starring Madsen as a raspy-voiced psychopath, and certainly not the last on this list; it's what he does best.
Key Madsen Line: "You've got to separate the wheat from the chaff."
"The Portal"
Michael Madsen is… Dr. Azirra
Tagline: "Dare to face your inner child…"
Plot: A super-evil painting isn't just bad abstract art but the portal to another world, where couples make out against floaty blue-screened cosmoses and from which emerge spooky, flaxen-haired children who giggle innocently before turning into cheap-looking, gray-skinned demons. This generic horror trailer could pass for just another J-horror rip-off until the minute mark, at which point screaming zombie types emerge, blood flows down toilet-stall walls and amputations ensue. It's kind of unbelievable how much blood is just casually flowing around; this is worth a NSFW look. Madsen seems to be playing the skeptical doctor investigating.
Key Madsen Line: "A portal. You really expect me to believe that?"
"Outrage"
Michael Madsen is… Farragute
Tagline: N/A
Plot: A Christian woman and her puddle-jumper plane either crash or are taken down (unclear) by a group of redneck hillbillies (including one deliberately Ted Kaczynski-looking dude) who proceed to get all "The Most Dangerous Game" on them, chasing them through the woods. Madsen isn't the centerpiece here — that would be the part of the trailer where a dude's struck by lightening, then there's a shot of his soul exiting his body. Also, everyone runs around on glorified sit-down lawnmowers, someone gets chopped up by a plane propeller and someone else loses a foot to a bear-trap. Co-starring Natasha Lyonne.
Key Madsen Line: "In this life, you're either the hunter or the hunted."
"The Brazen Bull"
Michael Madsen is… "The Man"
Tagline: N/A
Plot: You know you're in good hands from the trailer's second shot, of Madsen walking up to the camera, cigarette in hand, with someone strapped-down to a rather-unpleasant-looking surgical table in the background. In this slasher-type movie (which Madsen saw fit to produce), folks checking out a property for development quickly realize there's something wrong ("This wasn't locked when we came in!"). Yeah it is — for whatever reason, Madsen wants to capture everyone and torture them while lighting his smokes with a blowtorch. Fair enough.
Key Madsen Line: "Pain. Is truth."
"The Bleeding"
Michael Madsen is… Father Roy
Tagline: N/A
Plot: Somehing about evil vampires who want to destroy the world; Shawn Black (Matthew Matthias) isn't going to let that happen. Getting his spiritual/tactical back is Madsen as the kind of priest who seems a bit more fixated on firearms and booze than your average clergymen. Co-stars: Vinnie Jones, Armand Assante, DMX, Kat von D.
Key Madsen Line: "What I do think [takes a sip of beer] is that you're the kind of guy who only shows up when the shit's about to hit the fan."
[Top photo: Madsen in "Kill Bill: Vol. 2," Miramax, 2004]