Michael Haneke Makes It Hurt So Good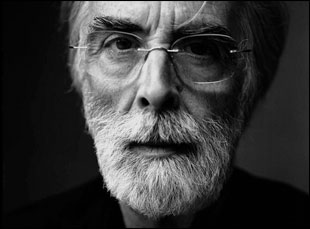 Posted by Aaron Hillis on
I love black and white, and I use it every chance I can, but there were a number of technical difficulties. We had to start from scratch because no one has any experience working with it anymore. On top of that, we had to shoot using color film stock because black and white stock isn't sensitive enough to film by candlelight and gaslight. We shot in color, and then transferred it to digital. There was an incredible amount of work involved, but I think the results made it worth it. In terms of visual models, we used as references the photographs of August Sander, who was the photographer in Germany during this period.
Were you pressured by investors or distributors to shoot in color?
Of course. [laughs] Our co-financiers in television demanded that we provide them with a color print. They didn't want to show the film in black and white. It was only after we won the Palme d'Or that they finally reneged on their demand.
At the New York Film Festival press conference last fall, you said that the old cursive subtitle below the title translates to "A German children's tale," but you left it untranslated because it made the film too specific to German audiences.
We say that, in Germany, the audiences should see the film as about Germany. Whereas in America, people should see the film as about America, and in France, people should see it as about France. That's why we didn't translate that subtitle. It was meant as an ironic nudge at the German audience. Interestingly, even in Germany, over half the spectators won't be able to understand it because it's written in an old form of handwriting that my grandmother used, but even my parents can't read.
What about the other part of the subtitle. Did you think the tongue-in-cheekiness of "a children's tale" couldn't be appreciated in other cultures?
The title is always the last thing you determine about a film. There were a number of titles that we were playing with through the years while I was working on this script. Until we made that decision, the film was called "A Children's Tale." It's not so ironic. In both German and English, the title has an ambiguous meaning. It could mean both a tale about children, and a tale for children.
I like that the film is narrated after the fact by a minor character who only appears in the margins of the story.
For dramaturgical reasons, the teacher and the nanny Eva are the only people who come from outside. An external viewpoint allowed me an objectifying perspective.
Since he's an unreliable narrator, you're able to play with the ideas of memory and mythology, by depicting exchanges between characters that he'd never have been privy to.
That's the narrative irony. It's also present in the classic novels, where the novelist claims to describe things that there's no way he or she could know. That's why the narrator begins the tale as he does. He says, "I'm not sure if the tale I'm about to describe to you actually took place in this way. My memory is vague and a lot of things I've heard only from hearsay." The beginning is meant to stress for the audience that the reality they're seeing onscreen shouldn't be taken as reality, but as memories and artifact. The black and white stresses this artificial aspect, too.
This is your first film shot in Germany in a decade. How different is it working in other countries, especially outside of your native language?
It's easier in Germany because I understand everything. [laughs] It's not a question of how to explain myself. Even when I explain in a very childish way, the actors are forced to listen to me, so it's not so terrible. I'm a control freak. I have to know what's going on. If it's in another country — even in France, I speak not-too-bad French — I'm a little bit out of control because they're talking and I don't understand everything. There's more stress.
There are wonderful actors all around the world. By shooting in different languages, you have the opportunity to work with them as well. What's important is, when you're listening to your actors, to be able to tell whether the emotions are true or not. When it's not my mother tongue, I can see if a reading is correct or not. The advantages outweigh the disadvantages. Working in different languages has allowed me to be able to shoot continuously without long pauses in between because I've been in different territories.
There are a quite a few roles for children in all your films, and you always snag great performances out of them. Good child actors are hard to come by, as is. What's your trick?
There's no trick! You have to find the right casting, that's all. If you have talented children, it's better than an actor because they're not playing. Actors are always playing another person. With a child, if it's a lion, he is a lion.
Speaking of casting, I noticed "Everyone Else" co-star Birgit Minichmayr in a blink-and-you'll-miss-her cameo. That other film is a part of the "Berlin School" filmmaking scene, and I'm curious what you think of it.
I know and admire the Berlin School of filmmakers, but Birgit really doesn't belong to them. She's an Austrian who works in Vienna, but I know her personally. That was as a favor to me that this huge theater star accepted this small role.
Your films are always so depressing and intense. Have you ever thought about directing something lighter, warmer, maybe a comedy?
Even my aunt would chide me and ask, "You're such a nice young man. Why don't you ever make comedies?" My answer to her was that you can't ask a cobbler to make a hat.
"The White Ribbon" is now open in New York and Los Angeles before expanding into limited release on January 15th.