Michael Haneke Makes It Hurt So Good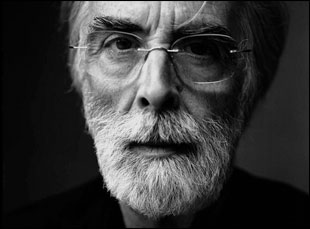 Posted by Aaron Hillis on
"Why so glum, chum?"
It's the first question I really wanted to ask 67-year-old Austrian filmmaker Michael Haneke, whose provocative social dramas are fueled by some of the bleakest, most distressing subject matter in world cinema today. Whether it's the sadomasochistic student-tutor romance in "The Piano Teacher," the relentlessly brutal critique of violence as entertainment in his meta-horror "Funny Games" (and his shot-for-shot U.S. remake, which gave the finger to Hollywood by mocking it with Hollywood financing), or the accusations of bloodlust against his own audience in his allegorical masterpiece "Caché," Haneke's arthouse miserablism certainly doesn't inspire hope in the goodness of mankind. But maybe inspiring thought, self-reflection and debate demands that cinema hurt so good.
The 2009 jury at Cannes certainly believed so. Winner of this year's Palme d'Or (and now nominated for a Golden Globe), "The White Ribbon" finds Haneke returning to his German roots. Staged in a Protestant village in northern Deutschland just before World War I, the film uses the historical framework of fascism and terrorism to depict how any community could easily turn against itself. Mysterious accidents begin to appear like crimes (arson, abduction, assault and assorted sabotages), and could it be that the children are to blame, retaliating against the verbal, physical and spiritual abuse wrought by the adults in power? With the help of a translator, I chatted with Haneke about the similarities between "The White Ribbon" and "Caché," whether he sees humanity as inherently evil, and why he's never directed a comedy.
What inspired you to write such a German-specific story?
I chose the context of German fascism because that's the best-known example of how people can be made receptive to what I call "ideological rat-catchers," people who are selling their ideologies like this. The film seeks to show the process of how people can be made receptive to such ideologies. It would be a misunderstanding to see the film as simply about the rise of fascism. That would be far too reductive, especially since there's no single film that could deal with all those causes.
As in some of your other films, "The White Ribbon" has mysteries that are never resolved. What attracts you to this idea, setting up audiences to search for clues in vain?
When you pose questions without providing answers, then you're forcing the audience to reflect on the questions and think about them more seriously. It's dramatically effective to do that. When a drama works with suspense, it's the glue that keeps the audience sitting in their seats. For every event that takes place in the film, there are several possible and logical explanations. It's up to each individual spectator to find the answer for himself.
Some have compared the ambiguities of "The White Ribbon" to "Caché." The new film concerns an unknown villain who plants a tripwire, setting off a series of antagonistic events. The earlier film also has an unknown villain who instigates hostility, except with strategically delivered videotapes.
After "Caché" came out, there were entire internet forums developed to discuss what the two boys were saying in the schoolyard at the end of the film. Of course, I had to write dialogue for them, but I made sure that no one ever found out what they said. That provides different possible interpretations for the audience. But, especially in "Caché," the questions that people are looking for an answer to are the least important part of the film. The film grapples with Daniel Auteuil's character's guilt and how he's going to respond to his obligations. That's far more important than whoever actually sent the videotapes. The tapes are simply a means of creating suspense.
There's another scene in "Caché" where Juliette Binoche is accused of having an affair with a friend of the family. You can assume that, yes, they're having an affair, but she claims she isn't. So it's up to each of us to make up our mind. So rarely do you actually know where the truth lies. It's only in mainstream cinema that everything is clear and all problems are resolved. Real life is complicated and contradictory.
Characters in your films are often so cruel to one another. If there were no laws governing us, do you see humanity as inherently evil?
Yeah. [laughs] I think everyone is capable of doing absolutely anything. It just depends on the situation they find themselves in. It's easy for us who are living in such comfortable, privileged surroundings to judge other people and say, "Oh, I would never do that." To stick with the example of German fascism, where we lived under the Nazis and were told that in order to save the rest of your family, you have to denounce your neighbors — I'm not so sure if I'd be strong enough to oppose them. You never know how you're going to respond.
You typically take a detached, didactic approach to your subject matter. Would you ever consider making something more personal or even confessional?
No. I always think it's dangerous to make films that deal with one's own tummy-aches. I leave that to beginners and dilettantes.
Is this the first feature you've shot in black and white?
I made two previous films [for television] that were mostly in black and white, although they did have color scenes in them. The first was a literary adaptation of Joseph Roth's novel "Rebellion," and also a drama called "Fräulein." Both were period pieces.