Marvin Hamlisch's "The Informant!", the film score of the year.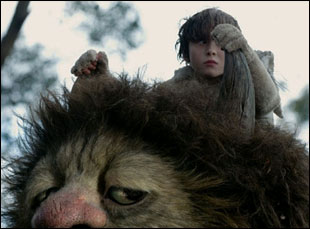 Posted by Vadim Rizov on
Because few people pay close attention to film composers, they can pretty much say whatever the hell they think on the rare occasions someone thinks to interview them. As a result, "Where The Wild Things Are" composer Carter Burwell provides as much concrete information on the film's studio-meeting turmoil as anyone on record yet in an interview in Moving Image Source.
In 4,000+ dense, fascinating words, the plainspoken Burwell opens up. A man I always thought of as a provider of ready-made, generically plaintive music (is there anything more basic than the "Being John Malkovich" theme?), but the man himself is perfectly aware of his role as studio hand-holder. When Warner Bros. wasn't comfortable having Karen O score everything, Burwell got brought in: "It was just a comfort thing for Warner Bros. to know that there was going to be some composer who would handle that job on that scene," he grouses. "I'm not comfortable with everything I just said to you, because I don't like to be the dependable traditional composer."
Meanwhile, on the other side of the WB lot, Steven Soderbergh and Marvin Hamlisch got away with murder. The much-remarked-upon score for "The Informant!" (you can hear an excerpt at the link) is notable for a reason, as the LA Times explains. In dragging Hamlish out of semi-retirement for his first score since 1996's "The Mirror Has Two Faces," Soderbergh knew exactly what he was doing: using ironically upbeat, anachronistic music as a jarring counterpoint to Matt Damon's self-deluding perspective.
Soderbergh actually managed to realized Sergei Eisenstein's dream of "vertical montage" — using sound and music not to reinforce what's on-screen, but to contradict and complicate it. If this sounds terribly academic, well, it is: the beauty of "The Informant!" is that it makes that goal viscerally comprehensible. You don't have to be a steeped-in-academe theoretician to instantly realize the oddity of what's happening or why.
Like all of Soderbergh's work, "The Informant!" isn't so much a movie as the solution to a complicated problem. And Hamlisch's score is the key to that: Soderbergh's foregrounded his music like no one since P.T. Anderson in "There Will Be Blood." Here's hoping awards season should be generous.
[Photos: "Where the Wild Things Are," Warner Bros., 2009; "The Informant!," Warner Bros, 2009]