Malachai's 'Ugly Side of Love,' album for the decade's end.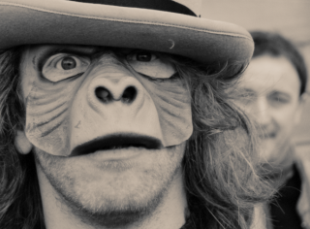 Posted by Brandon Kim on
The mysterious, monkey-masked, UK duo known as Malachai first blew my mind when I caught some of their musical genius in the film "Franklyn" in November.
Since then they have respelled their name (it was "Malakai") and have a debut full length due out on Domino records Feb. 2, 2010, called The Ugly Side of Love. It's the most original record I've heard in a long while, a British masala of psychedelia, dubstep, hip-hop, reggae and 60's jams. The album kicks off with a tribute to everyone's favorite 1979 New York gang flick, "The Warriors" and just gets tougher minute by beat heavy, guitar blown, acid sampled, minute.
Tough as Malachai Johnson's (Danny Glover) throaty this oughta do line in "Silverado" dual wielding two huge rifles just before he set out to kick huge amounts of ass. I suspect the name does not originate there but it'd be fine by me. Perhaps the masked man, known only as Gee, looks a bit like the kid from "Children of the Corn." Wherever the name comes from, Malachai conjures The Kinks as effortlessly as Tricky, "My little Red Book" era Love, alongside contemporaries like Clinic, all while invoking a dusty Morricone western groove and they are the shit.
The thirteen track, Ugly Side of Love, is as foreboding and apocalyptic as it is enthralling. It's the perfect record for the beginning of a new decade. Check out the decidedly Electric Prunes meets Tricky lament about the obliteration of a city called New Orleans in the track, "Fading World," courtesy of Domino.