Whatever happened to Lasse Hallström?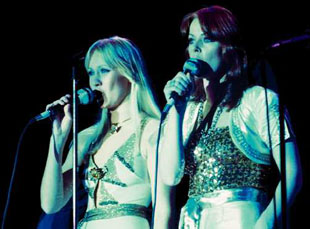 Posted by Vadim Rizov on
No one bats an eye when actors fall from toplining movies into the direct-to-video slough; with theatrical release down 14% from last year, it's becoming increasingly common. (Not even a Bruce Willis cameo can save you.) But what does it mean when an Oscar-nominated director ends a decade of decreasing returns by making a dog movie that goes straight to DVD.
In the '70s, Lasse Hallström shot out of the Swedish film industry by being lucky enough to direct all but seven of ABBA's music videos. At the same time, he was making a name for himself with movies like 1975's "A Girl and a Guy," about a hypochondriac named Lasse who's a master with the ladies until he falls for one Lena. (Freakily, the real Hallström met Lena Olin in 1992 and married her in 1994.)
But it was 1985's "My Life As A Dog" which made his name — a movie now enshrined by Criterion, complete with reflections from none other than Kurt Vonnegut — and eventually brought him to Hollywood. For a while, all was well: "What's Eating Gilbert Grape" was Sundance-prescient quirk, "The Cider House Rules" melodramatic schmaltz so understatedly done even I liked it.
From there, though, it was downhill fast. There was the duo of "The Shipping News" and "An Unfinished Life," the cinematic equivalents of Quality Novels set in New England amidst the falling leaves and marital desperation. There were "Casanova" and "The Hoax," two would-be frothy farces that came and went.
And now there's "Hachiko: A Dog's Story," which The Wrap reports is headed straight to DVD despite the fact that it "boasts Oscar-nominated director Lasse Hallström and a big star in lead actor Richard Gere. Add in a heartwarming true story about a loyal pooch and you'd think it would stand to clean up at the box office."
Well, last I checked, Gere's good for older-skewing romances like "Nights In Rodanthe" and little more, and Hallström's career has clearly been on the path to hell for a while now. What's happened, I guess, is that a presumed gift for understated melodrama has been abused one too many times: no longer in control of his career trajectory, he's now being thrown at anything remotely soapy in the hopes of keeping it in check. Which can't really work unless you're Douglas Sirk.
Witness the trailer for his next film: "Dear John," a Nicholas Sparks adaptation whose summary is soapy beyond belief and which stars Channing Tatum. "You don't scare me, John." "Well you scare me."
Then wash that taste out of your mouth with an ABBA music video which, when all's said and done, said body of work may be Hallström's lasting legacy.
[Photos: "ABBA: The Movie," Universal Music, 1977; "Hachiko: A Dog's Story," Stage 6 Films, 2010]