The kind of film about race the Oscars prefer.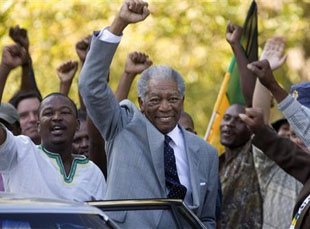 Posted by Vadim Rizov on
If Clint Eastwood hadn't directed "Invictus," it's safe to say no one would care overmuch about it. At age 79, Eastwood's pulled himself out of a decade-long slump of indifferent work starting with 2003's (in my opinion overwrought and terrible) "Mystic River." He's brought himself to the forefront again with a string of surprise commercial and critical hits, culminating in "Gran Torino," one of the rarest (and therefore bravest) attempts at acknowledging lingering racial animosity in the US.
There was a time when you could make a studio movie without having to pretend there aren't still race-based divides, stereotypes and hardcore hatreds across the country. But that stopped sometime in the '80s, seemingly right after Eddie Murphy walked into a bar and had to kick some redneck ass to get his White Russian.
"Gran Torino" plays like a "Bad Santa"-esque comedy — unbelievable levels of unceasing profanity, the ante raised with racial epithets — but it is a seriously refreshing attempt to acknowledge what's actually going on in putatively "post-racial" America.
This, alas, does not win Oscars, and Oscars seem to be what Eastwood wants, again. Hence "Invictus," a virtual lock for all kinds of awards-season glory. It's much safer and easier to talk about racial reconciliation and healing if it takes place a while back and in a country recovering from an official legislative racist policy that lasted longer than the America's. The competition is light in the straight-up inspirational biopic category — "Amelia" already crashed and burned — and certainly the man's welcome to it.
By all accounts, there are all kinds of problems "Invictus" doesn't get into, from the fact that rugby's lily-white nature in South Africa hasn't changed since 1995 to its evasiveness about the ANC party that helped free Mandela and Winnie Mandela — the inability, in other words, to conceive of a moment not as a turning point, but as a series of conflicting images flattened over time into a generic inspirational tale.
The reason the film's story can be resurrected as an obscure tale that's actually a milestone is because it, uh, wasn't a milestone. There's always a catch.
Because Eastwood-as-director is prized for his "economical" direction and understatement, it'll be tempting to view "Invictus" as the genre-hopping auteur's stab at the sports movie, sandwiched between his comedy-of-racial-errors and his upcoming supernatural thriller "The Hereafter" — just another type of film attempted and conquered. Regardless, it is an awfully odd way to follow up "Gran Torino" — acknowledging the difficulties of race in one country by flattening those of another.
In other news, Clint Eastwood has heard Lady Gaga, and he does not entirely disapprove. But he doesn't care for "Twilight: New Moon":
[Photos: "Invictus," Warner Bros., 2009]