Interview: Kid Koala + new videos from his band, The Slew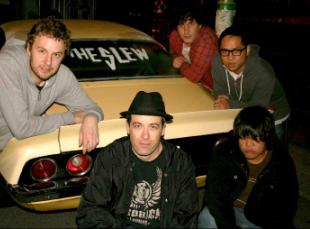 Posted by Brandon Kim on
Eric San, aka Kid Koala, started work on a rock record with his pal Dynomite D (whom he met on the '98 the Beasties Boys tour) after they had been approached to do a soundtrack for a documentary film. The film never materialized but the result of the collaboration is the deadly rock outfit, The Slew: Kid Koala, Dynomite D, Chris Ross & Myles Heskett – the former rhythm section of Wolfmother. And six turntables.
I was involved in booking a gig in Milwaukee some five or more years ago with Kid Koala where we met in a dark, sweaty little club. His performance blew my mind, and I swear he produced a third hand somewhere in that blur of three-turntable light speed man handling. I corresponded with him about this and our mutual love for Milwaukee's Old Man Malcolm. He also admitted to having a thing for Woody Allen weepies. Read all about it and check out these hot off the press live videos of The Slew!
I remember there was something odd on that Milwaukee contract rider like tube socks or soft TP you used to cushion the turntables. Do you still roll like that?
I remember that gig! Malcolm Michilles was there deejaying too. He's still one of my favorite deejays on the planet.
Yeah the tech rider probably had household rolls of toilet paper on it. You put them under each leg of the table to help absorb some of the low end feedback on the turntable needles. It's all very nerdy but it works. It was actually Malcolm that taught me that trick!
I remember doing a show with Citizen King and seeing them all jump around and his turntables were set up in front of the bass amp. And they were all jumping around and the needles didn't skip or feedback. I asked, "How did you do that?" He said, "Rolls of toilet paper. It's the best 2 bucks you could ever spend." He was also the first dj I know that used sawhorses turntable stands. They were way sturdier than regular tables and they folded up and toured well.
We still use sawhorses today on Slew tour. We added extra layers of foam and rubber feet to help further. But it's generally the same idea. They're great. And they let us rock out and not have to worry about needles skipping or anything. It's just drop the needle and go!
So you see, I owe a lot to the Milwaukee DJ scene!
So where do these tough songs come from with The Slew, who writes them, you, everyone?
Dynomite D and I put these tracks together over the last 4 and half years. We wanted to make a heavy sounding record that all of our skater friends would enjoy. Every layer on the record was hand cut on a turntable… that's why it took so long and also why a lot of it has that twisted turntable sound which we liked. We knew we wanted this record to be off the grid… so doing it by hand was one way to get that feel.
Chris Ross, and Myles Heskett (formerly of Wolfmother) joined us to help recreate the album tracks live on our first Slew tour earlier this year. We had so much fun playing with them that we've planned to record a new Slew album. They're going to record some bass and drum parts for us… at which point we will cut it to vinyl and recut their parts back into the tracks and see what happens. It should be fun.
What song would you live inside of if you could?
It's Not Easy Being Green.
What film?
The Hudsucker Proxy.
You dabbled with composing some for some shorts haven't you? Ever thought about feature films? Let's make this a three part question while we're at it, what film would you score or write a soundtrack for if you could?
No one's ever asked me to score a feature film. I've mostly scored for animated shorts so far. Right now, I'm happy just scoring scenes from my comic books to get used to the whole idea of tailoring music to picture and different dramatic moments. It'd be fun to score a Woody Allen film or a quirky rom com. I could do a handcut turntable New Orleans Jazz soundtrack for that! I think The Slew could easily do a great score for some action-adventure movie. That's some great car chase music!