And Vincent D'Onofrio as "Harvey Weinstein"…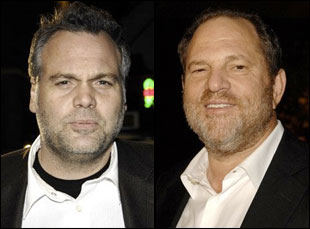 Posted by Vadim Rizov on
We all love Harvey Weinstein. He makes irresistible quote-bait and once had the world's greatest filmmakers in his paw (these days he has to settle for Rob Marshall, oof).
Harvey's been exhaustively covered and scrutinized whenever he's stopped being Nixon-level paranoid and let journalists near. These days, more than ever — as if he'd been transformed into Uma Thurman's Bride, buried alive before his time — he's a fascinating subject for a profile.
But is he enough of one for a movie? Vincent D'Onofrio's now slated to play the former Miramax mogul in an adaptation of Peter Biskind's "Down And Dirty Pictures."
If you haven't read it, it's a fun read, a history of "the rise of independent film" that's more like Biskind's personal explanation for why independent film was dead… by 2004. It's yellow journalism hastily printed and writ large for immortality, filled with entertaining if shakily accurate anecdotes and Biskind's sometimes lousy taste ("Jackie Brown" is a terrible movie, and so on).
The fracas that surrounded the book it is just as enjoyable (for a good time, read up on the anonymously funded Biskind Blows website), but a movie adaptation seems like a train-wreck waiting to happen, if a potentially awesome one. It's amazing enough that Biskind made it to paperback without someone trying to sue him, and who really wants to see a dramatized version of Harvey buying and locking movies in the vault? Or fighting with Jim Jarmusch over final cut on "Dead Man"? (Besides me. And I'm a bad demographic.)
Most importantly: what Biskind attempted to do was sound the death knell of indie film (five years ahead of everyone else, for whatever that's worth). Dramatizing that — with B-list actors and cheesy re-enactments — seems like an ironically appropriate way of proving his point. If you really want to kill something, embalm it as a closed story, with a fixed trajectory and arc. The real question: is it tragedy, comedy or both?
And who's going to play Tarantino and Jarmusch and all those other beyond-recognizable auteurs? Themselves? Is this a meta-con game? Is Charlie Kaufman writing it? Is this being funded by filmmakers wronged by Harvey Scissorhands? So many questions!
[Photos: Vincent D'Onofrio vs. Harvey Weinstein, used without permission; Jarmusch, Tarantino and Soderbergh]