The Duchess of York on "The Young Victoria."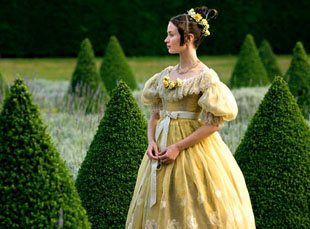 Posted by Vadim Rizov on
Sarah Ferguson, Duchess of York, is the ex-wife of Prince Andrew, a famous toe-suckee, a one time confidante to Princess Diana, a Weight Watchers spokesperson, Britain's traditional punching bag and, now, a movie producer — and she's out on the circuit doing press for "The Young Victoria," her first venture into film production.
Americans are suckers for British accents and aristocracy, so regardless of any accompanying infamy, it was inevitable the Duchess would show up and give good copy to promote the release, this Friday, of the year's seemingly mandatory entry in the Boring Awards-Season Movie About British Royalty genre. (Last year, hilariously, it was literally "The Duchess" with Keira Knightley; two years before that, it was "The Queen.")
And the Duchess has been getting softballed by everyone from New York's "46 Minutes" to New York Times ex-restaurant critic Frank Bruni. In every interview — all of which devote at least half of their length to discussing Fergie rather than the movie she's ostensibly promoting — she alludes to being "misunderstood," or how the British press was cruel to her, or so on. The American profiles tend to leave it at that, erring on the side of discretion.
When the film came out in the UK earlier this year, it seems Ferguson's involvement was viewed as a demerit rather than an asset, and interviews with her were far less extensive. Hating the Duchess is a national UK pastime, perhaps exacerbated by her twin reality shows "The Duchess in Hull" and "The Duchess on the Estate," in which she shows up and harangues, respectively, the obese and the poor, all while moaning about herself.
"Every single minute of the day I think I'm fat, ugly, disgusting, unworthy and nobody likes me. I've had 15 years of defamation of character," she begins the former show by saying, before informing the fat family — who didn't know who she was — "You've heard of the Queen of England, have you? The Queen was my mother-in-law." And her obsession with her bad press seems only to be adding fuel to the fire, as when she showed up at her daughter's college, working into her speech the tabloid poll tidbit that 82% of the nation would rather sleep with a goat than her.
But let no one say that she doesn't understand her American audience. It's highly unlikely that viewers will show up for "The Young Victoria" solely on the strength of a royal connection, no matter how much Ferguson claims spiritual kinship by explaining she wanted to make a movie about a woman who "fought for her marriage" like she should have done. Similarly, it's impossible she raised $35 million on the strength of her tabloid background and the parallels.
But her unselfconscious sense of constantly reiterated hurt and willingness to discuss her peak of fame for an audience that hasn't learned to hate her like they do at home is smart marketing for a movie that (c'mon) has little chance of making an American killing. Better yet, it allows her to martyr herself in a way that plays to the bathetic strengths of American celebrity journalism.
Regardless of how "The Young Victoria" does, this has to be the most satisfying press tour Ferguson's done in years: a prestige-y movie to talk up and parallels to Queen Victoria. Never mind that the Victorian era is not generally considered a golden age these days. An icon is an icon.
[Photos: "The Young Victoria," Apparition, 2009; "The Duchess in Hull," from Ken McKay, ITV, 2008]