Did Jennifer Aniston and Liam Neeson sink a distributor?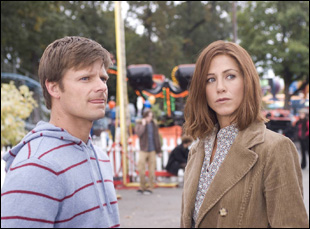 Posted by Stephen Saito on
2009 has been a year in which home video companies attempted to make a splash in the theatrical market and wound up doing a belly flop instead. While there doesn't seem to be any permanent damage to Anchor Bay's business from theatrical non-starters like Ashton Kutcher's "Spread" after years of making a mint on DVD re-releases of "The Evil Dead," the venerable Image Entertainment was reported yesterday to be considering filing for bankruptcy.
The recent downturn in the DVD business surely has contributed to the situation, but this could also be because Image, long the distributor of the Criterion Collection and countless indie films on home video, decided to start distributing some of their films theatrically, beginning with the Jennifer Aniston-Steve Zahn odd duck "Management" (released via Samuel Goldwyn) and more recently, the Liam Neeson-Laura Linney thriller "The Other Man," a movie with such a low-profile release this fall that it eluded our "Season of 'Man'-ly Movies" chart.
If there's an obvious trend here, it's that recognizable stars (not of the Steven Seagal variety) are appearing more and more in movies that you first hear of while scrolling through Netflix or strolling through Blockbuster, even if the films received a theatrical release, a point that Alison Willmore and Matt Singer discuss in this week's IFC News podcast.
That plays into the interest of these home video companies who are likely able to sweeten deals with a film's producers by saving face for their stars by throwing in a limited theatrical release to avoid the stigma of having their latest film considered to be "direct-to-DVD." Once the film gets to its final destination, it's bound to stand out on store shelves because of some familiar floating heads. Justin Timberlake and Jeff Bridges in "The Open Road"? Yep, came out for one week back in August.
But even the smallest theatrical releases come at a cost, as Image has discovered the hard way, and the true losers seem to be the artists who are getting short thrift for taking some chances.
Image mismanaged "Management," which is one of the year's overlooked films, an unusually charming love story in the vein of "Something Wild" that eludes rather than reinforces its easy "quirky comedy" tag. Coincidentally, I rented "Spread" the other night on DVD and, like others, was pleasantly surprised by my appreciation of Kutcher's thoroughly dislikable gigolo at the center of the Los Angeles wonderland created by "Young Adam" director David Mackenzie.
I fear for what will become of the recent Image acquisition "Don McKay," a dark, twisty Thomas Haden Church thriller I saw when it premiered at Tribeca, scheduled to get a theatrical release in April. These films aren't easy sells, and with fewer distributors out there, it's possible more films may not get a release of any kind, let alone theatrical. Especially if Image Entertainment isn't around in the home video business anymore.
[Photos: Steve Zahn and Jennifer Aniston in "Management," Image Entertainment, 2009; Anne Heche and Ashton Kutcher in "Spread," Anchor Bay Films, 2009]