Darin Gray and WILCO's Glenn Kotche, On Fillmore + smut film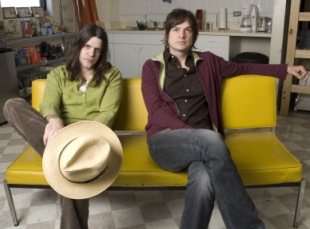 Posted by Brandon Kim on
Somewhere in the five hour space along the route between St. Louis and Chicago, lies a place called On Fillmore. There you'll find Glenn Kotche (WILCO) and improv-bassist extraordinaire Darin Gray (Dazzling Killmen, Brise-Glace, Jim O'Rourke) building a world out of bass and percussion, haunting it with vibraphones and pretty birds.
[Darin Gray and Glenn Kotche of On Fillmore. Photo by Nathan Kaye]
The duo conceived of the this experimental project while on tour with Jim O'Rourke, who mused that they were "the rhythm section's revenge." They have since released several albums, collaborating from their aforementioned respective Midwestern cities, the latest of which is Extended Vacation on Dead Oceans. It pairs equally well with well dressed cocktail party and losing your mind alone in your pajamas. Indeed, I have found it does wonders for Christmas tree decorating as well, there's almost an echo of glass ornaments gently pinging together and there's little birdies in them branches.
If you've listened to On Fillmore before, you know how clearly cinematic their soundscapes are, so it's no surprise they have been doing some soundtrack work. They recently did the
the soundtrack for J.T. Petty's "Blood Red Earth" a period horror short about a group of Lakota Native American's plagued by burrowing creatures back when whites were first moving into their world. "S&MAN," is feature documentary, also by Petty, about creepy smut films made in New Jersey – it's hard to imagine something more horrifying than that. Dig On Fillmore's subtle scoring on this trailer and check tomorrow for an interview I had with Kotche and Gray.