Danny McBride, That Funny Dude From That Movie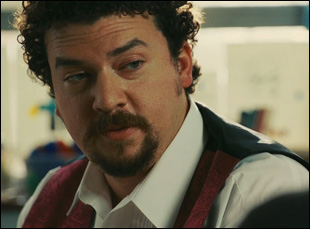 Posted by Aaron Hillis on
Actor and sometime screenwriter Danny McBride has risen to the top of Hollywood's comedy food chain, having handily stolen scenes from Ben Stiller ("Tropic Thunder") and Will Ferrell ("Land of the Lost"), and become the headliner of his own series as washed-up baseballer Kenny Powers on HBO's "Eastbound & Down," a series he helped conceive. McBride's success is deserved, though he certainly gets by with a little help from his friends. Long before he was the "thug life"-lovin' drug supplier in director David Gordon Green's "Pineapple Express," he served as a second unit director on Green's 2000 arthouse breakthrough "George Washington." And he wouldn't have had a cameo in Jody Hill's "Observe and Report" if he hadn't co-wrote and starred in Hill's indie cult fave "The Foot Fist Way" as a renegade Taekwondo instructor who beats up kids.
Momentarily ditching his usual partners in crime, McBride can next be seen in "Up in the Air," an Oscar-buzzing new dramedy from "Juno" director Jason Reitman. Based on Walter Kirn's novel, the film stars George Clooney as a contractor who gets hired to fire corporate employees around the country, and whose chief passion in life is racking up ten million airline miles. In a brief but memorable role, McBride plays Clooney's brother-in-law to be, a reluctant groom who must be talked down from the proverbial ledge just before his own wedding. By phone, McBride and I spoke about his worst airplane experience, getting away with murder in Hollywood and how his hair is comparable to a famous thespian's nose.
You've probably spent a lot more time in airports and on planes since your career took off, no pun intended. Do you find any pleasure in the mundane processes of travel?
You know, I don't mind time on a plane. For however long the trip is, people can't reach you, you don't have to deal with shit, and you can just sleep and read. I love that. I hate going to airports, though. I don't really find much satisfaction in going through security.
What's the worst traveling experience you've ever had?
Me and my fiancée tried to fly our cats from Los Angeles to our home in Virginia. It was a fucking nightmare. One of the cats doesn't like flying at all, so we took him to the vet and he gave us these tranquilizers. All it did was turn him into a drunk monster. He was making these weird growls I'd never heard him do before. Cats have that weird third eyelid that comes out from the middle — that was out. It was horrifying. We threw him out the window.
We've all had cold feet about something. Can you think of any monumental indecisions you've experienced?
None that have ever come down to the wire like the one for the character I play in the film. I feel like if you're going to get cold feet at a wedding, it's probably nice to do it before the rehearsal dinner so people don't check into hotels and everything.
So your fiancée has nothing to worry about?
No, I own all my decisions. But we've been engaged for two years, so I need to figure it out and get moving.
This may be the first film you've been a part of that's getting serious Academy Award buzz. During the production, did you sense that this film might touch the cultural zeitgeist, as it were?
When you make a choice to be in something, you always hope that it resonates with people. There was always something special about this. I remember when I first got the script, when Jason sent it to me, I really responded to it. It was an intelligent piece of work. I liked the tone, and how [Reitman] intercuts real people who've been laid off with the rest of the movie. It has really good performances in there from Clooney and Anna [Kendrick] and Vera [Farmiga] and everyone. There's something captivating about it.
It's been famously said of Laurence Olivier that he acted with his nose. For you, however, would it be safe to say that your hair has been one of your comic weapons?
It has been a comic weapon indeed. [laughs] I just have fuckin' lame hair so it's easy to make it do weird shit. I think people take advantage of that when they get in the room with me. It's somewhere between Slim Goodbody in the '70s and, like, Greg Brady.
Now that you and your pals Jody Hill and David Gordon Green have crossed over into mainstream success, have you felt any added pressure to make creative compromises?
You know, our background is independent film, and I think that spirit is something we will never give way from. We're somehow finding careers in Hollywood that I don't think are typical. A lot of times, we look at each other on these different projects we're on, and it's like: "These people should not have let us come in here and do this."
This summer, we shot "Your Highness," this movie I made with David Green, something that Ben Best and myself wrote. It's a big fantasy movie, we had Natalie Portman and James Franco, and every single day, David and I would look at each other and be like: "It was ten years ago that we were shooting 'George Washington,' and now we're in Belfast making this thing."
It's always good to work with your buddies, especially when you've been in the trenches with them on no-budget films, and then you have the luxuries of the big-budget films. We like to keep the same sensibilities and just go for it, make something that's unexpected, with the freedoms you have when you are on something small like "The Foot Fist Way."