There's no such thing as a "critic-proof" movie.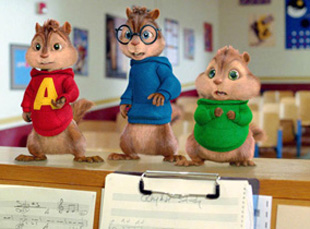 Posted by Vadim Rizov on
With millions of parents around the country staring down the barrel of the gun that is "Alvin and the Chipmunks: The Squeakquel," it sometimes seems as if we live in a godless universe where the combined powers of children and marketers turn movies into irresistible forces.
Over at Slate's "Browbeat" blog, Eric Hynes takes a quick look at 2009's apparently critic-proof films — those that crunched out an average score of 40 or less (out of 100) on review aggregator Metacritic but scared up more than $100 million at the box office.
Four qualify so far: "Paul Blart: Mall Cop," "Couples Retreat," "G.I. Joe: Rise of the Cobra" and "Transformers: Revenge of the Fallen." (Barely above them on the score average, and making even more, are movies like "Twilight: New Moon" and "Angels and Demons.")
"Transformers" has wormed its way into the public's heart for whatever foregone reason, and the same goes for "G.I. Joe." In both cases, I suspect the public at large (like me) hankered for the good, solid all-American tradition of watching shit blow up in the time-approved fashion: gasoline and loud noise rather than a bunch of fantasy nonsense running around.
The two other films were the biggest of their kind opening in their slots with little serious competition. "Blart" was up against "Hotel For Dogs" and "Notorious" and (my theory) seemed just high-concept-stupid enough to pique people's curiosity; "Couples Retreat" was up against… pretty much nothing.
But Hynes has a larger conclusion, pointing out that the truly abominably reviewed — "All About Steve," say, or "Old Dogs" — doesn't do quite that well, and in general the public tends to skew average. And in Hollywood, as in the larger film world, the mediocre and terrible far outnumber the decent and outstanding, so the public — those members who watch movies based on nothing more than hunches, convenient show-times and advertising — are eminently correct in keeping expectations low and easily satisfied.
Personally, anytime something gets truly heinous, angry reviews and there isn't an obvious reason — in other words, it's not a Sandra Bullock movie or a "Saw" entry or a slasher remake — I generally make a note to check it out when I have time. When something gets not dismissive but pissy reviews, that generally means something interesting's up, whether it be the surreal Lynch-meets-mentally-defective-thriller "I Know Who Killed Me" (16 on Metacritic, and in parts scarier and more resonant than "Inland Empire"), the dazzling "Speed Racer" (a Metacritic 37 and visually one-of-a-kind in a good way) or M. Night Shyamalan's (intentionally!) funny "Lady In The Water" (36) .
Workaday critics who slog through each week's release slate rarely can handle too much novelty or weirdness. When a film seems to be going off the rails, the basic reaction is panic and disdain rather than curiosity. In that, they're much like most multiplex audiences (I don't mean that condescendingly — my own lust for novelty has been honed by, frankly, watching too many movies). So a truly "bad" movie isn't critic-proof anymore than audiences are primed for it. But when audiences and critics unite and the reason isn't obvious, it's best to take a look.
Which, I'm going to guess, is probably not the case with "Squeakquel."
[Photo: "Alvin And The Chipmunks: The Squeakquel," 2009, 20th Century Fox]