"Crazy Heart": Not all that crazy.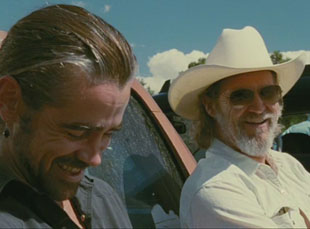 Posted by Vadim Rizov on
The Los Angeles Times, reporting from the beating heart of Hollywood, is not generally noted for overly skeptical coverage of indie film. So it's a bit of a surprise to see John Horn's story about the upcoming surefire hit-thing "Crazy Heart," in which Jeff Bridges gets an Oscar nomination by holding down the grizzled center of a road-to-redemption country-singer saga. Horn makes several points worth contemplating, and then giggling at.
Such as: "Crazy Heart" will serve as Fox Searchlight's "redemption" after the consecutive flops of "Whip It," "Adam," "Gentleman Broncos" and "Amelia." This is because it's been, like, five whole months since "(500) Days of Summer," and everyone's memory is getting shorter. (I blame Twitter. Wait — no, no, I don't.)
Point two: "For all of the recognizable, root-for-the-underdog beats in Cooper's adaptation of Thomas Cobb's novel, Hollywood initially reacted as if the movie couldn't be more uncommercial."
Yup, that's pretty much the same OMG WHO COULD'VE PREDICTED THIS COMMERCIAL SUCCESS tale as "Slumdog Millionaire" (I'll never let it die). Studio rejections included, according to writer/director Scott Cooper, complaints that "It's dark, it's character-based and it's challenging." "Challenging" has basically become a euphemism for "characters over 30" or "contains subtitles" or "doesn't have Megan Fox." Look, people like inspirational underdog arcs — regardless of their form. Get over it.
Point three: Executives were leery of the country soundtrack, but now that's okay because of…"The Blind Side." Specifically, the movie needs "good reviews, strong word of mouth and a slice of 'The Blind Side's' Middle America turnout to make it a breakout winner" — because "Crazy Heart" was made under the auspices of Country Music Television, and there are plenty of folks in America who like the stuff, and "The Blind Side" has magically made it clear that Middle America wants to be pandered to just as much as anyone else.
This new marketing paradigm can now be applied to any Indiewood movie that would previously have been a "tough sell" because it's about the unfamiliar arthouse realm of middle America. Shock! You can sell your movie to the people it's about. (As long as it's not too arty, obviously: this wouldn't have worked for, say, "George Washington.") Amazing.
[Photos: "Crazy Heart," Fox Searchlight, 2009]