Dreaming of an Armond White Christmas.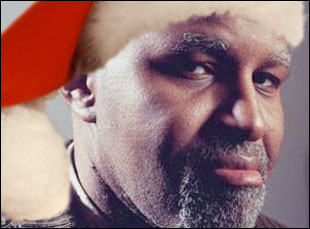 Posted by Vadim Rizov on
On the merriest, maddest day of the year, families gather around the TV-hearth to trudge through the same festive films over and over, provoking grumbling, deja vu and boredom. It's also around this time that notorious film critic Armond White gifts us with his annual Better Than list, pitting his real top ten against movies he thinks are similar but vastly inferior.
In the spirit of the season, then, and in honor of Armond, here's my own Christmas better-than list: slightly less curmudgeonly, but just as argumentative — and more fun for you, snowbound viewer.
In "A Christmas Story," little Ralphie wants his BB gun and won't shut up about it, no matter how many times he's told "you'll shoot your eye out" — a line made infinitely more familiar by TNT's perverse annual tradition of running the Bob Clark movie on a 24-hour loop. But I think "A Christmas Story" is a little too frantic and a lot obnoxious, so I'd recommend subbing it out for "Gremlins," which ups the ante: your Christmas present will try to kill you, destroy the town and trash the department store seasonal display for good measure. The finale — Gremlin vs. boy amidst red-and-green lights — couldn't be clearer about the dangers of holiday gifts.
Tim Burton always joked that the ill-timed 1996 holiday release of "Mars Attacks!" made sense, since it was about green invaders from a red planet. And seeing this on Christmas day is one of my happiest memories of anti-seasonal spirit. It's certainly a better movie about invaders destroying the security of our homes and families than the saccharine and sadistic "Home Alone," and fuzzier too: instead of feet sliding down nails and tarring and feathering, we get festively green head explosions. Plus, the music's better.
You know what happens when there's no snow for Christmas? Everyone ends up in danger, that's what. So we learn from the interminable 1954 "White Christmas," two hours of sludge that manage to tame even the irrepressible Danny Kaye. And it goes on and on for almost forever, or at least until we finally get that damn white Christmas. I much prefer the evil-genius coup the Weinsteins pulled in 2005 by releasing "Wolf Creek" on Christmas Day — a gleefully straightforward, evil-minded slasher that especially benefited from inviting audiences out from the cold to warm Australian beaches and wastelands, then killing everyone on screen. Guess we better stick with the chill.
Here you have two movies about the Christmas spirit being threatened by foreigners. In one case, it's a boring (you're going to have to face up to it someday!) film about saccharine creatures from Halloween Town kidnapping Sandy Claws and singing songs to kill time while the flimsy plot unfolds. In the other, David Bowie gets buried up to his head in sand and receives holiday greetings in phonetically rendered English by a smiling Japanese guard. When you think about it that way, there's really no contest.
Truth be told, I quite like "It's A Wonderful Life," but I've only seen it once, and I was already a teenager. For those of you who have seen it umpteen times and are tired of it, but who still want that '40s small-town feel, it's time to move on to "The Miracle of Morgan's Creek." Nothing beautiful or wonderful or sacred about community and family here: it's all sexual secrecy and frantic hypocrisy and drunkenness, plus sextuplets as a decidedly secular Christmas miracle.
I guess "You've Got Mail" isn't strictly a holiday standard, but it's still a seasonally timed romcom (one of two involving Meg Ryan and Tom Hanks pretending to be happy under Nora Ephron's strict thumb; she hears his voice on the radio Christmas Eve in "Sleepless In Seattle"). Far better to go with Terry Gilliam's "Twelve Monkeys," decidedly the anti-meet-cute, with a weird Christmas setting to boot that uses the holiday as counterpoint rather than mandating warm fuzzies.
"Meet Me In St. Louis" is remembered as a Christmas movie primarily for Judy Garland's definitive "Have Yourself a Merry Little Christmas," but it's not really a movie about the holidays so much as one about casting back to a nostalgized, warm and glowing vision of family life with the nasty parts softened or elided. So try Terence Davies "The Long Day Closes," which does the exact same thing but keeps the glow the whole movie. The Christmas is as cuddly as they come, and the artistry is dazzling.