Great moments in schadenfreude: Charles Shyer.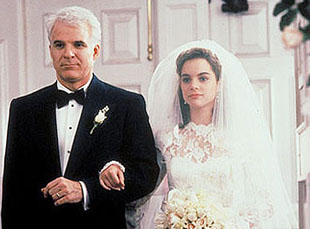 Posted by Vadim Rizov on
It's been an exciting week for news of projects in development. P.T. Anderson returns! David Gordon Green shot another movie! Uh, "The Birds" remake is going to be a hard R!
And then there was word that Charles Shyer is all set to shoot "BFF," a "female buddy comedy" about "childhood best friends who reunite years later in Manhattan and discover that one has become successful while the other remains stalled in their small hometown."
Charles Shyer is the ex-husband of Nancy Meyers. As a professional team from 1980 onwards, they quickly crawled up the Hollywood ladder. First they just wrote some hits ("Private Benjamin," "Baby Boom") and then they got to direct them as well, trading off who was at the helm while churning out sitcoms for the screen. They gave the world a defanged Steve Martin as the "Father of the Bride" and a pre-trouble Lindsay Lohan in "The Parent Trap." Sure, there were hiccups — like the 1994's Julia Roberts flop "I Love Trouble" — but nothing to derail their career.
Then they divorced in 1999 and went their separate ways and everything went to hell for Shyer professionally. Meyers went on to a successful career in the estrogen-charged specialty: the enormously successful, rancid "What Women Want" gave her carte blanche to make the surprise hit "Something's Gotta Give," in which a woman Meyers' age who is smart and attractive and accomplished finds a man who can appreciate her true qualities.
Meyers went on to make the equally non-autobiographical "The Holiday," in which successful career woman Cameron Diaz stresses about how devoted she is to her job editing movie trailers but finds love anyway because she's just that awesome. There is, similarly, nothing autobiographical about the upcoming "It's Complicated," which, per Wikipedia, is about a "self-reliant divorcee" who gets involved in love triangle between her ex-husband and another man, both of whom find her irresistible.
Good for Meyers. Meanwhile, Shyer did the following: directed the bad period drama "The Affair of the Necklace" (lifetime gross: $471, 210), the ego-stoking "Alfie" update (worldwide gross: $35 million, proving male post-divorce image-fluffing isn't nearly as appealing as Meyers' version), and a failed sitcom pilot ("Him and Us"), which took his usual style to its logical destination.
I'm not crazy about anything either Meyers or Shyer have done, separately or together, but Meyers has her advocates and all the fans. Insofar as there was any talent between the duo, it seems it was all on her side, at least for knowing what audiences/"women" want.
So she's gone on to be her own 50something romantic heroine while Shyer's now reduced to no-name vehicles about young women in Manhattan — in other words, abandoning his smoking-jacket aspirations ("Alfie" indeed) and now trying to do what his wife does so successfully. Down so far, so fast, etc.
[Photos: "Father of the Bride," Touchstone Pictures, 1991; "It's Complicated," Universal Pictures, 2009]