Cardboard lightning bolts of the gods.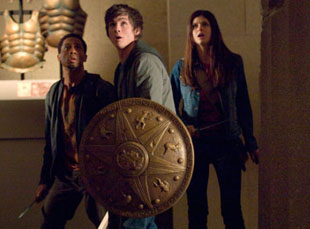 Posted by Vadim Rizov on
As we've been told again and again in the run up to "Avatar," it took James Cameron 15 years to make his movie because he had to wait for the technology to catch up to what he saw inside his head. So it stands to reason that he's not the only filmmaker who's been thinking about what was impossible to film even ten years ago and is now rifling through the archives for ways to take advantage of the technology that's finally here. And maybe that's why everyone's decided it's finally time to get Greek mythology right.
That's the gist of Geoff Boucher's LA Times trend piece. The movies in question themselves aren't much to think about: there's the stupid upcoming "Clash of the Titans" remake and the even more tepid "Percy Jackson & The Olympians: The Lightning Thief," in which a young boy meets the gods in Manhattan, becomes a hero, etc. (a summary that reminds me of "Hercules in New York").
After that, Boucher has to stretch for examples — "Battlestar Galactica" "had plenty of references […] and planets named after the Greek zodiac" — but that's okay, because his key point is solid: mythological fantasies with gods and lightning bolts are coming back because of "their potential in this digital-effects era." In other words, the opportunity to employ hundreds of diligent f/x laborers to conjure up centaurs and various fantastical happenings.
I can see the pragmatic appeal here for Hollywood execs, but I wonder what's to be gained even in terms of pure impressive technology. We're approaching a zero hour for CGI, which can do a lot of amazing things now in creating the illusion of real tactility and sense of weight in its fabricated fantastical creatures. That has the potential downside of making the fantastical mundane.
We're a long ways from the swords-and-sandals cheesefests of the '50s and '60s, but I think there are still things to be gained from lo-fi f/x. I don't just say that out of the usual kneejerk fanboy preference for old-fashioned dated stop-motion so beloved of "Clash of the Titans" fetishists. As (sometime IFC guest critic) Mike D'Angelo pointed out recently writing about the "Large Marge" sequence in "Pee-Wee's Big Adventure," "We're accustomed by now to seeing apparently real objects undergo a convincing metamorphosis–it's easily shrugged off, no matter how impressive. Stop-motion's jerky frame-by-frame process remains oddly unsettling." True, so when you're portraying the uncanny, wouldn't you want to do it in an uncanny way?
I'm not rooting for all stop-motion all the time — the original "Clash of the Titans" isn't that great either — but something along those lines would be exciting. Debased Kabuki theater? Doing it "Dogville" style, with the set suddenly morphing into CGI terrain at odd moments? Having all the gods played by people and the people played by CGI?
That gap between the familiarity of the source and the oddness of how it ends up being represented on screen would be interesting. Instead, we just get a villainous Steve Coogan running around New York and random lightning bolts. Not nearly as cool.
[Photos: "Percy Jackson & the Olympians: The Lightning Thief," Fox 2000, 2010; "Clash of the Titans," Warner Bros. Pictures, 2010]