Califone's Tim Rutili cuts album + feature film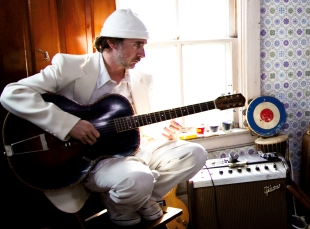 Posted by Brandon Kim on
What's better than a new Califone record? One that was created as a soundtrack alongside a film of course! "All My Friends Are Funeral Singers" is both the title of Califone's new record which you have hopefully heard by now, and forthcoming film. Singer/songwriter Tim Rutili conceived of the album and the film together writing and directing while watching tons of surrealist films.
Califone has ten records alone and considering his band Red Red Meat from the 90's, Rutili isn't a stranger to cutting records. He has even a developed a small repertoire of scores and soundtracks ("The Lost," "Stranger Than Fiction"). But he hasn't done it all at the same time before while directing his own film… slacking all these years.
I talked to him about this exciting new turn, his writing process and lost my mind at his weird breakdown of the "Wizard of Oz" all in an interview here. I also have an exclusive clip from the film there but before you head off to check that out, peek the trailer for "All My Friends Are Funeral Singers."
The film premieres at Sundance in January, something we did not yet know when we spoke. And you've got to check out the album which is already out, it's top, top shelf!
Listen to "Funeral Singers" from Califone's "All My Friends Are Funeral Singers."