Blame it on "Paul Blart: Mall Cop."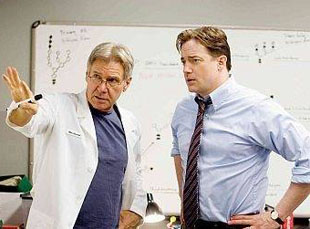 Posted by Vadim Rizov on
For those of you who are so over awards season and can't wait to get to the January dumping grounds, may I suggest "Extraordinary Measures", hitting theaters January 22nd, in which Harrison Ford's non-Indiana Jones-related career dies a little more.
"Extraordinary Measures" is, as the title gently hints, Based On An Inspirational True Story — that of John Crowley, who raised $27 million in venture capital to start a company to create treatment for his two kids, afflicted with a fatal disease that affects less than 10,000 people worldwide.
If his story were filmed accurately, it'd basically be one of a dad trying to keep a straight face while becoming an ad hoc businessman. But I suspect that "Extraordinary Measures," with Harrison Ford as a quirky but brilliant scientist and "What Happens in Vegas" director Tom Vaughan at the helm, will be less "Lorenzo's Oil" and more triumph-over-adversity fodder.
"Extraordinary Measures" is the first salvo from the newly launched CBS Films, which was begun for curious reasons. After Viacam and CBS split, CBS' Showtime channel no longer had access to the Paramount pipeline and felt the need to generate its own product — both to plug back into Showtime and to be promoted on all the radio/TV stations owned by CBS.
Their official plan is to make mid-budget films (these days laughably defined as under $50 million) and aim for the same success as "Paul Blart: Mall Cop." Yup. That's what was laid out by executive Amy Baer.
But the real strategy appears to be to churn out generically hooky movies with mid-tier or lapsed stars — before 2010 is out, we'll have a new J.Lo romcom, a "Beauty and the Beast" update starring Vanessa Hudgens ("Beastly," heh) and a Dwayne Johnson/Billy Bob Thornton thriller.
"Extraordinary Measures" has the added benefit of its accompanying website's "Inspirational Quilt." If one heartwarming triumph over adversity isn't enough for you, you can go to the quilt and click on the many "inspirational" videos loaded thereon. Anyone can submit one, the votes will be tallied, and the winner will get $10,000 donated to the charity of their choice.
It's pretty clear that most of the videos so far were uploaded by the charities in question, sometimes with the same videos they have on their websites. But hey, $10,000 for the public good is probably the best thing that'll come of this film.
Here's the trailer. Dad to scientist: "All the researchers out there say you're a genius on the verge of a scientific breakthrough." "He's really eccentric, but his science is way ahead of everybody else's." Good to spell that stuff out. Also, it's kind of all made-up but you saw that coming:
[Photos: "Extraordinary Measures," CBS Films, 2010]