Best musical numbers of the Naughts.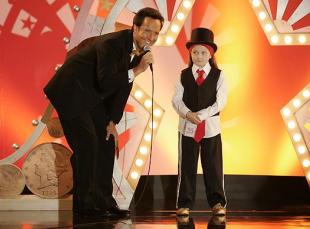 Posted by Brandon Kim on
Great musical numbers need not be in proper musicals, in fact I tend to think the best ones are in films that are not musicals at all. I confess, I do not particularly enjoy musicals. However, the well crafted musical number, especially when slipped into a comedy/drama/weepie/etc is a real treat. Tops for me is the Kenny Rogers and the First Edition trip sequence in "The Big Lebowski." Alas, that unbridled genius was from a prior, more joyous decade.
Still there were some good numbers during the Naughts, some of which I'm sure I missed and will not be mentioned here. The winner goes to little Olive's, appropriately inappropriate tribute to her Grandfather.
1. Super Freak, "Little Miss Sunshine" (2006)
The best thing about "Little Miss Sunshine" was Alan Arkin, and a close second was Abigail Breslin as Olive. There's something inherently satisfying about shoving it in the face of stuffy conformist douchebags, especially in ersatz ridden California.
2. The Loco-Motion, "Inland Empire" (2006)


Watch it here. You can always trust David Lynch to turn a boppy 60's bubble gum hit into some kind of freakish nightmare sequence. I'm not sure he's improving what he has always done well, "Inland Empire" was no "Blue Velvet" or "Twin Peaks," but nobody does it better.
3. Medley, "Moulin Rouge!" (2001)
A mild disdain for musicals and "Romeo + Juliet" kept me from seeing this Baz Luhrmann fantasy for a long time. But this stylized medley with everything from Joe Cocker's "Up Where We Belong" (from "An Officer and A Gentlemen") to David Bowie's "Heroes" is brilliant.
4. Aquarius/Let the Sunshine In, "The 40 Year Old Virgin" (2005
Maybe I'm biased because I'm an Aquarius or maybe it's the sheer joy of cinema unleashed in this credit rolling number but I dig it. That makes two for Steve Carell on this list and I'm sure it won't be his last involvement in hilarious musical numbers.
5. Jai ho, "Slumdog Millionaire" (2008)
Jai ho dog. You know it was good. I'm more of a "28 Days Later" and "Sunshine" fan but the fact that all these films come from one man, Danny Boyle, is nothing short of incredible. I like a director who's not afraid of some fun, and running full out wild.
Honorable mentions:
Billy Elliot (2000), Once (2006), Mamma Mia! (2008),
Napoleon Dynamite (2004).