Awards season, the ultimate in existential challenges.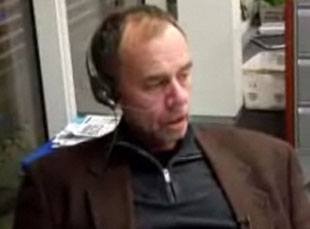 Posted by Vadim Rizov on
For the next three months, many film sites will be sucked into the awards-season horse-races, spewing thousands of words that'll date and curdle quicker than last year's "Daily Show."
There are, in fact, whole careers built around the prognostication of the irrelevant. Over at the New York Times, David Carr's passed the baton of four years' worth of "The Carpetbagger" Oscar commentary to Melena Ryzik in video form, which makes for amusing yet grim viewing.
It begins with Carr — his gloriously demolished voice his secret weapon — glowering in his Times cubicle and receiving an editorial voice-mail informing him it's time to put on his "big boy pants." Carr glances at his calendar, where a skull-and-crossbones mark the start of awards season and an ominous score come way out of some left-field horror movie. He has flashbacks to indifferent interviewees on the street and red-carpet chaos; he winces in pain.
Then the kind of malicious smile Wile E. Coyote used to get spreads across his face. "Hey Melena!" he yells across the room. "You like movies, right? Have I got a gig for you. Low pay, long hours, you get to spend time with movie stars who could care less about you […] and an audience in the hundreds, OK, dozens. You can be the famous New York Times Carpetbagger." Then he trains her to fight it out on the red carpet.
It's a joke, but it's not a very funny one because it's a little too close to home. Much like Jason Jones' hilarious but painful visit to the Times this summer, a lot of the laughs are centered around how the paper is both out-of-date (Carr hands Ryzik his Rolodex rather than just sending her his e-mail contacts) and not nearly as important as it once was (their spot on Carr's practice red carpet pales next to Variety's).
The jokes about traffic counts are exaggerated but recognizable (see also this Onion article, which reads like it could be fact). For anyone concerned for the future of the Times (which should be, like, all of you), this mordantly self-mocking video's first half is more like a funeral bell than a joybuzzer.
There's something else here, though: a grim, resigned sense that we must confront the awards season head-on and remain immersed in it for a quarter of the year, no matter why or who cares. Ryzik seems like a good sport and does her Times Square interviews while remaining admirably friendly and composed, but it's hard not to sympathize with the bald, mustachioed man who says he couldn't care less and has to ask his wife if they saw any good movies this year. ("'The Inglourious Basterds'? Something like that?")
It's like basic existentialism: in the face of meaningless and ultimately pointless life, we persevere, conducting ourselves the best we can, ultimately to die and be forgotten. Much like awards-season coverage. Godspeed, Melena Ryzik.
[Photo: From yesterday's "Carpetbagger" video, the New York Times, 2009]