The "Avatar" backlash backlash.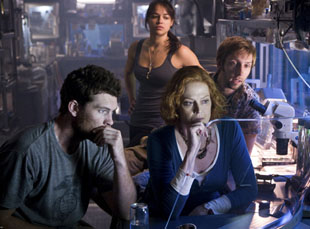 Posted by Vadim Rizov on
I'm getting sick and tired of hearing about how much "Avatar" is going to suck because the trailer is loud and has silly dragons and it looks like "Delgo" or something. It seems like whenever I talk to someone about whether or not they're looking forward to the film, their response is "It looks stupid."
You know what else looked stupid? "Terminator 2: Judgment Day," a movie about a woman trying to destroy a bunch of computers to short-circuit a future computer/human war, alongside the world's most annoying kid, the charmless young Edward Furlong, teaching Arnold Schwarzenneger how to say "dude." It's all voice-overs about being a single mother.
Let's be honest here: pretty much all of Cameron's movies look/sound basically stupid if you only, you know, read about them, and not just in a "genre movies have different rules" way. Like, "The Abyss" is (SPOILER ALERT) about aliens who want to destroy us with a gigantic tidal wave. "True Lies" has a punchline where a nuclear bomb going off is supposed to be funny. "Titanic" has all those moronic Celtic pipes on the soundtrack.
Cameron's obsessed with feminism and nuclear weapons without thinking too hard about either; I won't be surprised at all if "Avatar" is a soggy allegory about why colonization and the war in Afghanistan is bad Cameron's been worried about for the last 12 years. And that's perfectly fine, because his script deficiencies have always been compensated for by godhead levels of organization in the action sequences, which are without exception perfectly organized, beautifully shot and ridiculously exciting.
And to the CGI haters: oh be quiet. "Avatar" probably won't truly LOOK LIKE NOTHING YOU'VE EVER SEEN BEFORE, but I can almost certainly guarantee it'll be plausible and enveloping: from "The Abyss" onwards, all the effects in Cameron's movies have aged near-flawlessly. (And if you don't think that's a major achievement, go back and look at, say, "Jumanji.") This is a guy who, for whatever reason, feels his narratives can't be realized without creating entirely new technologies and systems. That's his mental block and curse, but whatever it takes to bring action cinema's greatest technician back is fine by me.
So keep that all in mind while you watch this admittedly spot-on burgeoning viral sensation, which cuts "Team America: World Police" to the "Avatar" trailer. It's funny, but it kind of proves my point: Cameron's skills with story may be pretty rudimentary, but his ridiculous technique and technical advances push way beyond the same old blow-shit-up-hero cycle nonsense.
[Photos: "Avatar," 20th Century Fox, 2009]