"Star Wars" may have its own beer, but is it art?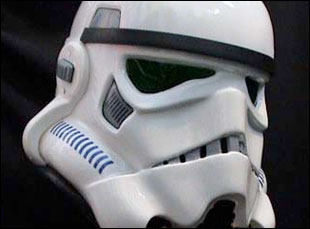 Posted by Vadim Rizov on
There really is no end to what true "Star Wars" fanatics are willing to shell out for. Which can be a problem if, say, said product isn't licensed by George Lucas, as Andrew Ainsworth recently found out the hard way.
In 1976, Ainsworth — then an industrial designer — made 50 Stormtrooper helmets, for which he got £20 each, plus approximately another £30,000 for other character equipment. Ainsworth's total "Star Wars" earnings: about £31,000. Lucasfilm's merchandise earnings for "Star Wars": $10 billion plus and counting.
In 2004, it finally dawned on Ainsworth that this stuff was worth money, and he began selling Stormtrooper helmets from the original mold he'd created. Lucasfilm's legal fury was swift: in the U.S., they soaked him for $20 million (for just 19 helmets sold, no less). Then they brought their case to the British courts; Wednesday, they lost. And why? Because the judge in the original case said it's not art. Mr. Justice Mann said the helmets were industrial designs rather than sculptures, hence subject to 15 years of copyright protection rather than 70. The appeals court concurred: the helmet and armor were "utilitarian" rather than art.
I get what they're saying: the helmets can be mass-manufactured rather than accruing value from their limited quantity and rarity, hence they're no more art than, say, those plates with paintings of cats the Franklin Mint peddles. On the other hand, it's hard not to sympathize with Lucasfilm's British attorney Mark Owen when he says "The film is a piece of art, and all the components are part of that." Some of us would like to think so, anyway.
But in that case: shouldn't the designer be the artist and get the benefits? Not in the real world, perhaps — companies claim the rights to the work of their employers all the time, even if it seems morally iffy — but ideally, yes, and from that perspective it's nice to see the pennypinching Lucasfilm lawyers get shut down definitively. (They plan to appeal the Supreme Court, natch.)
Then again, hearing the Lucasfilm folks talk about "art" (in connection with the rare merchandising dollar they haven't snapped up) is like listening to Pat Robertson talk about tolerance. These days they're pimping the somewhat redundantly titled "Imperial Stout Trooper Stout," a New England brew hitting select states next Monday or so. I mean, fine: I'll drink it with my "Godfather" vodka. And if it's as good as the "Monty Python's Holy Grail Ale" I tried last weekend, then that's fine. The reviews are good anyway, if you're the kind of person who reads beer reviews.
[Photos: Stormtrooper helmet, from Shepperton Design Studios; Imperial Stout Trooper label, from New England Brewing Co]