Nancy Meyers, architecture pornographer.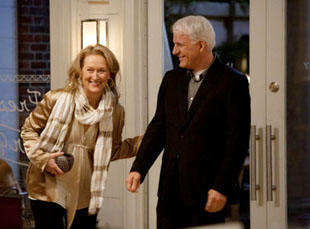 Posted by Vadim Rizov on
Not to rag on the New York Times' inadvertent Week Of Women In Film, but after Manohla Dargis' underdetailed manifesto on female directors, here comes Daphne Merkin going long in a profile on director Nancy Meyers.
The occasion is the upcoming release of "It's Complicated," and Meyers is by no means an unworthy subject for a lengthy interview: she is, as Merkin notes, arguably the most powerful female director in Hollywood, with control of final cut.
But… this article is such an epic fail in so many ways. Alarm bells went off early, when Merkin describes Meyers' jewelry as "unblingy as can be" and quotes an anonymous studio marketing exec as saying (with admirably naked cynicism) the film is "a terrific populist comedy" because it "reduces well to a 30-second TV spot."
To argue for Meyers' significance, Merkin quotes "Elizabeth Hayt, a friend of mine in her late 40s who considers 'Something's Gotta Give' to be a cultural lodestar" and grabs the (admittedly awesome) descriptive term "architecture porn" from "one disparaging poster on an Internet message board." She claims Meyers' body of work manages to "tease out the conflicted, humorous heart of adult life" (huh?).
Merkin dances around the most interesting things about Meyers (most of which are not about the actual experience of watching her movies), most obviously, the sexism issue — why does Meyers all but stand alone in the industry? — which the article touches on by raising the fact that Meyers is apparently as multi-take obsessive as David Fincher. Her friend John Burnham is quoted as saying "If Mike Nichols said to do another take there would never be any issue." Pace Fincher's notoriety for wearing actors down this way, that's not necessarily true, but whatever.
The real area of Merkin's fascination is the aforementioned "architecture porn," to which she devotes at least a third of the article. If Meyers has any real visual trademark as a filmmaker, it's the well-lit, expensively gracious homes her characters occupy, and the piece makes clear how much Meyers labors over them — Steve Martin compares her meticulousness to Scorsese, only focused on matters of interior design taste — and how closely they resemble her own life (for her house she ended up getting just the right beige color from Australia).
They are, in some ways, the message, more so than her achievement of making the fiftysomething professional woman as (or, in the case of "It's Complicated," more) desirable than the leggy twentysomething blond.
Which is why there's something ringing hollow in the insistence that Meyers, whatever her formal gaffes, is doing something new and bold in recalibrating the center of romantic focus. She keeps the normative assumptions of the young-pretty-people romcom firmly in place, the world of fabulously expensive dates and high-pressure-but-barely-seen jobs. Every time I see Kate Hudson or whoever strapping on her shoes, I get weird visions of those It's Just Lunch ads you see in airplane magazines, the ones about finding a mate who's just as corporately fast-tracked, financially successful and all-round awesome as you are.
There are assumptions here about the correlation between money and romance — and no, it's not just a flashback to the '30s world of the flirtations of the rich and elegant, which always foregrounded class explicitly and served as a pleasing counterpoint to the Depression outside. It's a little poisonous and always makes me feel poor. That's something even more important than the people populating these nicely decorated frames.
[Photos: "It's Complicated," Universal, 2009; "architecture porn" from "The Holiday," Columbia Pictures, 2006]