"South Dakota," an abortion "dramumentary."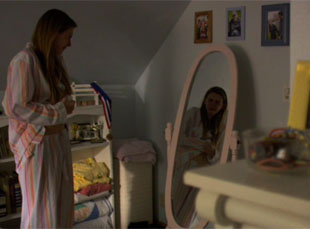 Posted by Vadim Rizov on
The history of abortion on-screen is short and inglorious: for the most part, it doesn't exist, rejected out-of-hand as a viable option, since its presence would automatically turn any film polemical.
But it's not like there's a shortage of information, impassioned views and propaganda on the subject widely available from both sides of the aisle. So why did almost 1,000 L.A.-area high school girls have to be bussed into Westwood one October morning to watch "South Dakota: A Woman's Right To Choose"?
As the Los Angeles Times reports, administrators of four Catholic schools and 11 public ones signed off to have their charges watch a supposedly impartial documentary on the subject.
Of course, not explicitly stating "ABORTION = DEATH" doesn't mean there's not a viewpoint being promulgated. "South Dakota: A Woman's Right To Choose" is an uneasy mix of documentary interview and (judging by the trailer anyway) bathetic narrative — "dramumentary," per first-time director Bruce Isacson. And the film sort of outs itself in terms of where it stands with its chosen company. It's being pushed by Motive Marketing, who've done grass-roots campaigns to rally evangelicals (quite successfully) to "The Passion of the Christ," Ben Stein's quietly profitable (and vile) anti-evolution screed "Expelled: No Intelligence Allowed," and others.
"South Dakota"'s executive producer Howard Kazanjian is on the record as not caring about "making money"; Focus on the Family's James Dobson has seen it, while screenings for the pro-choice camps remain tenuous. And the finale's depiction of a girl fleeing an abortion clinic in terror because of the horrendous conditions and staff apparently outdoes "Juno" for sheer caricature.
Why have all these administrators essentially signed off to help jump-start a marketing campaign? In the video of the screening — the same one the Times is reporting on — you can quite clearly hear someone informing the teen girls that the film's due for release next year, which simply isn't true; as the article states, the film is looking for but well may not receive distribution outside of the church-group kind.
I don't really care what the Catholic schools are doing, since it's their money and judgment. But is the L.A. public school system's sex ed system so benighted and underfunded that something/anything that can tackle an issue is to be embraced with open arms? I suppose classroom viewings of Tony Kaye's "Lake of Fire" — a film that more than balances its copious footage of vitriolic, homicidal anti-abortion protesters with graphic aborted fetus footage– are out of the question. But still: it would appear that, in the name of "discussion," a bunch of teenage girls were just shipped off by their schools to be raw grassroots marketing meat for an evangelical-targeted film.
So, indie documentarians, get to it. Do you have an opinion on something controversial, no matter how inane or ill-conceived? (Aside: Reenactments? This is how we tackle one of the nation's most instantly divisive social/ethical/legal problems? With some Cranberries songs and a "Veronica Mars" cast member?) Film it, then head over to L.A., where apparently no one's actually paying attention to what they're signing off on. If only the makers of "Life Is Hot In Cracktown" had known this…
[Photo: "South Dakota: A Woman's Right To Choose," Lionheart Movies, 2009; "Lake of Fire," THINKFilm, 2007]