"2012," confirming China's place as our dominant superpower.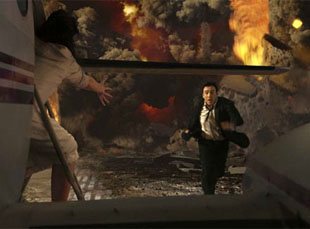 Posted by Vadim Rizov on
Perspective is everything. For example, Christian Toto at right-wing site Pajamas Media concludes "Armored" is an okay movie despite its mediocre script because it "uses an anti-war refrain to set its story in motion, but ultimately showcases a soldier's strength and heroism in the explosive final reel." Meanwhile, Jeffrey Wells at Hollywood Elsewhere confirms that "Avatar" is every bit a piece of liberal propaganda about loving the earth and that, for once, all the obsessing over decoding the liberal propaganda subliminally inserted in H'wood films is justified.
So it's fun to read about "2012"'s booming reception in China, where it's been received glowingly. At $65 million and counting, it's the most successful foreign film ever released in China. Folks aren't coming for the inadvertent laughs and disaster porn; they're coming to see a proud portrait of China as our dominant superpower, creating product (in this case, arks) that the world is literally depending on. The LA Times piece quotes Shi Ying — 20-year-old computer science student — who sounds convinced of the film's almost literal truth: "At the end of the world, China will build an ark. There will be the same question of money, and China will also be very pragmatic."
Are those pro-Chinese overtones are deliberate or incidental? Roland Emmerich is not noted as one of our more nuanced geopolitical thinkers. "Some see Emmerich's inclusion of China as a ploy to access the growing mainland market," Lily Kuo writes — an absorbing if not entirely plausible conspiracy theory, presuming that most American viewers are too thick to notice they're not watching mere blockbuster carnage but a prediction of America's declining global status, that their political/economic views can be safely discounted and that Chinese viewers aren't just the future of manufacturing but of box-office grosses as well.
Either way, foreign viewers are bringing, en masse, a lens to bear on "2012" that not a single American critic picked up on, much less discussed in depth. In part it gives the lie to Big Hollywood's paranoid critiques of every movie not centered around righteous heartland evangelicals as a calculated insult to the silent majority. None of those interpretations have ever caught on except inside the blogosphere echo chamber. But here's an entire demographic interpreting a movie presumably not meant as an ideological statement first and foremost as a major geopolitical shift.
Now that's impressive. Well played, Mr. Emmerich.
[Photos: "2012," Sony, 2009]