"You're So Vain," Carly Simon finally reveals who!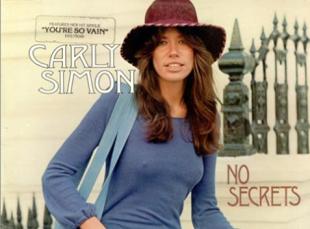 Posted by Brandon Kim on
Sort of. One of the greatest mystery's in American music has been the identity of the man in the hit song "You're So Vain" since it's debut in 1972. Who is Carly singing about? People have speculated on which celebrity ex-boyfriend it is for decades. Mick Jagger, Cat Stevens, Kris Kristofferson? Warren Beatty always got my vote.
Well on November 4th Carly went into the WNYC Soundcheck studio and told host John Schaefer that the name was embedded in her new recording of the song… backwards. It's like the good old Beatles LP days! Of course, Schaefer and his crew went and unmasked the mystery man, probably by means more sophisticated but less fun then playing an LP backwards.
And the name is….drum roll…. David. Not Mick, or Warren. So David who? She only says the first name. David Bowie? David Letterman? I was not alive in 1972 so I don't have much of a bearing on the time, nor do I know details about who Carly rolled with back then other than the obvious star bf's. But producer and record colossus David Geffen is a possibility. He helmed Elektra records during the years prior to and during the release of No Secrets , the album on which the song was delivered – I'm sure the irony of it's title has not escaped fans. Rumblings suggest Carly was unhappy wit Geffen's handling of her records, possibly due to his favoring Joni Mitchel at the time.
What do you think? David who?
Listen to the unveiling here!
(click the second to last tab to jump to the right spot at 23:43)

View Full Audio on WNYC