Why it's so hard to say what's good when it comes to movies.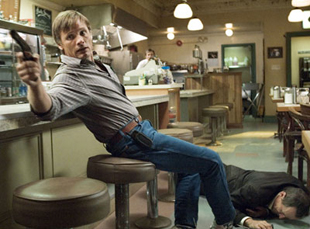 Posted by Vadim Rizov on
Barring whatever Artforum cooks up, you're unlikely to find a more uncompromisingly festival/arthouse/"difficult"-centric best-of-the-decade list than the TIFF Cinematheque's Top 30 of the decade — which is actually 54 films long due to a truly staggering number of ties, but who's counting?
The most "popular" movies on the list — I use that word advisedly — are probably "The Royal Tenenbaums," "A History of Violence" and "Pan's Labyrinth." I've seen all but nine of the rest — the list tops out with Apichatpong Weerasethakul's "Syndromes and a Century," the definitive beloved-by-critics-and-seen-by-almost-no-one-else 2006 film.
All the movies on the list are worth taking seriously. Some of them I love viscerally, some of them I respect abstractly and some of them I frankly despise (looking at you, "Colossal Youth"). But is the whole thing a bit airless? Definitely.
It's tough enough to get the festival world's elite to agree on what the best non-festival movies might be (try to get ten reasonable people to agree about "Zodiac" or, hell, "Spider-Man 2") but it is a bit surprising that the cineastes of the world couldn't get it together to at least, I dunno, champion something perverse like "Speed Racer."
Guess the highbrow world really has given up on trying to find signs of life in the studio system, which is a shame. It really is harder work. Art films announce themselves and, at a certain level, have an easier time breeding consensus on what's "the best" than finding common ground on more popular fare.
There's just something a little lazy and presumptive about the TIFF list, even though it does reflect where my head's at a lot of the time. These are not movies anyone has to defend: even if they aren't all as great as the list says, they do come pre-packaged with the label of greatness. (Most of them, incidentally, also screened at TIFF, the Toronto International Film Festival, itself — the festival circuit is more and more of a closed loop when it comes to launching works that can be seen in enough places to get word of mouth out. TIFF's list confirms its status as the key place for critical respect, if not commercial success.)
Maybe future high-brow film historians will have to put more effort into re-excavating and re-evaluating Hollywood and mainstream fare than they will to identify the great arthouse hits of the aughts. Even in the '90s most of us could agree on, I dunno, "Pulp Fiction" or "Unforgiven." 20 years from now, I hope "The Devil's Rejects" is rediscovered and venerated.
Incidentally, TIFF's list makes no discriminations between shorts and features. So if you haven't seen one of the entries for #23 — Guy Maddin's "The Heart of the World" — now is a perfect time to do so. In a just world, this would've been broadcast and beloved on Adult Swim, where it would've fit in perfectly:
[Photos: "A History of Violence," New Line Cinema, 2005; "Pulp Fiction," Miramax Films, 1994]