War of the Welles: Seven Actors Who've Played Orson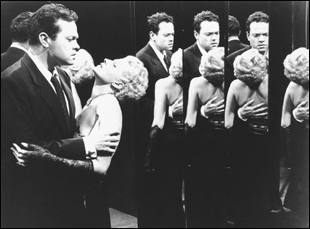 Posted by Matt Singer on
Vincent D'Onofrio and Maurice LaMarche in "Ed Wood" (1994)
Directed by Tim Burton
The Film is… a biopic about the life of Edward D. Wood Jr., the so-called "worst director of all-time." Frustrated by his financiers' efforts to control his film "Plan 9 From Outer Space," Wood (Johnny Depp) storms off the set and heads to the nearest bar where, by chance, Orson Welles sits alone, looking over his notes for his production of "Don Quixote." Welles invites Wood to join him at his table and the two strike up a conversation about filmmaking.
Orson Welles is portrayed as… Ed Wood with talent. As Wood and Welles chat, they realize they have a lot in common: both men struggle to maintain their artistic vision in the face of domineering moneymen and producers who think they're directors and try to recut their pictures. Welles eventually gives Wood the encouragement he needs to complete "Plan 9." "Ed," he tells him, "visions are worth fighting for. Why spend your life making someone else's dreams?"
D'Onofrio and LaMarche are… a good combination, with D'Onofrio as the face and LaMarche as the voice of Welles. D'Onofrio definitely looks like him, though maybe a bit too much like the boy genius of "Citizen Kane" and not enough like the heavyset has-been who made "Touch of Evil" around the time of this imagined conversation. And LaMarche has made a cottage industry of his uncanny aural resemblance to Welles, even using the voice as the basis of the character The Brain from the cartoon series "Animaniacs" — there's an entire episode where The Brain throws a recording studio hissy fit nearly identical to Welles' famous "Frozen Peas" tirade. If you're curious to hear why director Tim Burton chose to dub in LaMarche's voice for D'Onofrio's, just watch D'Onofrio's "Five Minutes, Mr. Welles," a short film about the actor's preparations for his famous supporting role in Carol Reed's "The Third Man." Five minutes of D'Onofrio's Mr. Welles and his unconvincing upper-class accent is more than enough to convince you that Burton made the right call.
Liev Schreiber in "RKO 281" (1999)
Directed by Benjamin Ross
The Film is… a fictionalized account of the controversy surrounding the production of "Citizen Kane." Welles and co-screenwriter Herman Mankiewicz (John Malkovich) produce their version of newspaper tycoon William Randolph Hearst's life, and then Hearst (James Cromwell) uses all of his considerable power and influence to try and destroy the finished film before it's released to theaters.
Orson Welles is portrayed as… a glory-hogging freedom fighter. On the one hand, Schreiber's Welles will not compromise his vision or cede the spotlight for anyone, forcing Mankiewicz to change the lead character's name at one point, and then taking Mank's name off the screenplay entirely at another. On the other, Welles' stubborn attitude comes in handy when RKO Pictures begins to buckle under the pressure and Welles is summoned before the board of directors to make his case, which he does, couching the entire debate as a freedom of speech matter. Mostly, this Welles is a relentless, driven egomaniac, though during a rare conciliatory moment with Mankiewicz, he reveals the well of self-doubt he hides from everyone else with his boundless cockiness. Despite his success, his fame, his talent, Welles feels alone. Or as he puts it to Mankiewicz, "I'm just a fraud who couldn't care less about anyone except himself." Welles, in other words, isn't just telling Hearst's story with "Kane"; he's also telling his own.
Liev Schreiber is… charismatic, but a bit of a lightweight. He does a fine job capturing the young Welles' swagger. Hard to blame RKO head George Schaefer (Roy Scheider) for giving this Welles final cut on "Kane"; he's just so damn charming. Early scenes hum with Welles' exuberance about his opportunity to make a great film. But Schreiber, and the film as a whole, suffers during the film's heavier moments: he never carries the sort of raw emotion Welles brought to similar performances. Put it this way: despite the numerous scenes recreating the "Kane" production, I have a hard time believing the guy in "RKO" is the same guy who destroyed Susan Alexander's bedroom, or who delivered the campaign rally speech, or who screamed at Boss Jim Gettys from across an apartment building stairwell. He just doesn't have that fire in him.
Angus Macfadyen in "Cradle Will Rock" (1999)
Directed by Tim Robbins
The Film is… an Altman-esque ensemble piece about the relationship of art and capitalism set during the Great Depression. In one major thread, Orson Welles and the Federal Theater Project's production of the pro-union musical "The Cradle Will Rock" is threatened when the FTP comes under assault from anti-Communist elements within the U.S. Government. In the other, Nelson Rockefeller (John Cusack) hires Diego Rivera (Rubén Blades) to paint a mural for the lobby of the Rockefeller Center, but is disgusted by the finished product's favorable depiction of Communist leaders like Lenin.
Orson Welles is portrayed as… a drunken buffoon. Robbins told Interview at the time of "Cradle Will Rock"'s release that he found the myth of the young, brilliant Orson Welles to be "overly romantic." In Robbins' interpretation, Welles is less the creator of his history than a well-lubricated witness to it. Though Robbins praised Welles in the same interview as "brilliant" with a "wonderful punk personality," that's not really the guy we see in Robbins' film. The guy we see rails against the eight-hour workday and mandatory breaks for union employees, drinks like a fish, and doesn't take a steady step in the entire picture. Robbins is far more flattering to "The Cradle Will Rock" writer Marc Blitzstein (Hank Azaria), producer John Houseman (Cary Elwes) and to Hallie Flanagan (Cherry Jones), their benefactor at the Federal Theater Project, who are all regarded as passionate believers in the transcendent power of art. Welles, in contrast, is a guy who passes out during cast auditions and who dines, like William Randolph Hearst, at the 21 Club, hobnobbing with other elites while his workers scrounge for every dollar.
Angus Macfadyen is… not Orson Welles, at least not any Welles I recognize, except perhaps in those Paul Masson Wine commercial outtakes. Scottish by birth, Macfayden rarely sounds like he's American, let alone like Orson Welles. (Imagine Gerard Butler doing "Citizen Kane" with that strange not-quite-American accent from "The Ugly Truth" and you have a decent approximation.) It's hard to imagine this Welles making any money in radio; he's so swamped with alcohol that he slurs every syllable he utters. Macfadyen's Welles is like something out of one of the period's screwball comedies: boisterous, rowdy, quick-witted, and frequently tipsy. It's a fun performance, but it doesn't exactly scream Orson Welles (at least not the Welles of this particular period) to the point where you wonder, given Robbins' willingness to fictionalize other parts of the story (John Turturro's character, for instance, is a fabrication), why he didn't just change the character's name from Welles and let Macfadyen go really crazy.
Christian McKay in "Me and Orson Welles" (2009)
Directed by Richard Linklater
The Film is… a coming-of-age story about a high-school-aged theater enthusiast named Richard Samuels (Zac Efron) who stumbles into a small role in the Mercury Theatre's 1937 production of "Julius Caesar."
Orson Welles is portrayed as… a brilliant scoundrel. As described by one of his employees (Claire Danes), Welles is "very competitive, very self-centered, and very brilliant." "And," she warns, "the rule with Orson is you don't criticize him. Ever." He's basically the Don Corleone of Depression-era Broadway: favoring those he loves with warmth and generosity and ruining the lives of those who dare to cross him. During his stint at the Mercury, Richard sees many sides of Welles' persona: his improvisational brilliance, his unwavering directorial vision, his ravenous womanizing, and his dangerous temper. The rest of the "Caesar" cast and crew are often seen waiting around for Welles while he's darting from one radio appearance to the next. But when he arrives, he is always worth the wait.
Christian McKay is… uncanny. He's larger than life, but never cartoonish. He's simultaneously charismatic and repulsive. He's equally convincing whether Welles is sweet-talking a pretty girl or browbeating an argumentative stagehand. Watching McKay in the role, it is easy to see how Welles commanded so much attention; whenever McKay enters a scene, you can't take your eyes off him. It's said that Welles fired the actor who previously played Richard's part in "Julius Caesar" because Welles feared being upstaged. McKay never has to share his character's concern. He's so good he comes dangerously close to rendering the film's title half untrue.
[Additional photos: "The Night That Panicked America," Paramount Television, 1975; "Malice in Wonderland," Incorporated Television Company, 1985; "Heavenly Creatures," Miramax, 1994; "Ed Wood," Touchstone Pictures, 1994; "RKO 281," HBO, 1999; "Cradle Will Rock," Touchstone Pictures, 1999; and "Me and Orson Welles," Freestyle Releasing, 2009]