War of the Welles: Seven Actors Who've Played Orson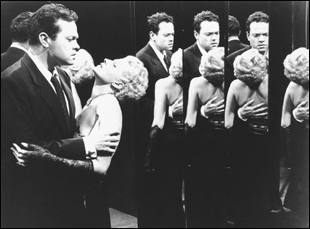 Posted by Matt Singer on
Orson Welles' "Citizen Kane" is about one man from many perspectives. As a reporter travels the country in search of the meaning of Charles Foster Kane's last words, he hears stories about the man from wives, co-workers, friends, and guardians, all of whom see Kane's life differently. In the trailer, Welles describes the many dimensions of his character in the narration: "Kane is a hero, and a scoundrel, a no account and a swell guy. A great lover, a great American citizen and a dirty dog."
Certainly, Welles believed that one man could encompass all of these dissimilar traits. And in recent years, enough actors have portrayed enough variations of Welles himself to suggest that the acting/directing wunderkind, like Kane, was just as complex an individual. Some films have portrayed him as a hero, others as a scoundrel. Some, like Richard Linklater's new film "Me and Orson Welles," show him to be both. Here now, a comparison of the various onscreen Orsons, lovers, citizens, and dirty dogs, all.
Paul Shenar in "The Night That Panicked America" (1975)
Directed by Joseph Sargent
The Film is… a TV movie about Welles' infamous 1938 "War of the Worlds" radio play and the reactions of people who believed the show was real and got swept away in the ensuing panic.
Orson Welles is portrayed as… an aloof genius. Though "The Night That Panicked America" is structured as a behind-the-scenes account of the "War of the Worlds," it keeps Welles himself at arm's length. He arrives at the studio shortly before the broadcast and departs after the show in a scrum of reporters. People talk about his directions and desires for the show, but Welles himself has exactly zero lines of dialogue in "The Night" outside of his contributions the as narrator and star of "The War of the Worlds." He directs the entire play silently with hand gestures, glances, and the occasional devilish grin. The interlocking scenes of terrified listeners provide tangible evidence of Welles' gifts. But the movie offers no insight into the process as to how he harnessed those talents. It is as if Welles is a magician and the film is his assistant; it knows how he does the tricks, but is sworn never to reveal the secrets.
Paul Shenar is… never going to be mistaken for Orson Welles. He simply looks nothing like the man. But then this is a film about radio, so how Welles looks is ultimately far less important than how he sounds. And Shenar does sound like Welles, though not in the precise way that an impersonator might. Instead, he captures Welles' tone, the richness of his voice, his confidence and seriousness. You may not be convinced that you are listening to Welles (you're certainly not convinced that you're looking at him), but you are convinced that this Welles is capable of directing and starring in maybe the most famous radio broadcast in the medium's history.
Eric Purcell in "Malice in Wonderland" (1985)
Directed by Gus Trikonis
The Film is… the story of the rivalry between Hollywood gossip columnists Louella Parsons (Elizabeth Taylor) and Hedda Hopper (Jane Alexander). Welles gets involved when Hopper figures out that Welles' secretive new movie, "Citizen Kane," is inspired by the life of William Randolph Hearst, Parsons' boss.
Orson Welles is portrayed as… Joseph Cotten's sidekick. "Kane" played an important role in the Parsons/Hopper war, but in the scenes "Malice in Wonderland" devotes to it, Welles plays second fiddle to the film's version of Joseph Cotten (and the young actor named Tim Robbins who plays him). At a posh Hollywood party, Hopper prods Cotten for information about his rumored extramarital affair with actress Deanna Durbin. Eventually, a fed up Cotten shoves her face first into a plate of deviled eggs while a bemused Welles looks on. In the next scene, Welles and Cotten sit down to watch "Kane" in a screening room and Hopper arrives, technically to watch the movie, but really just to shake Cotten's hand for having the moxie to do what so many others have wanted to.
Eric Purcell is… playing the sort of rushed celebrity cameo present in most Hollywood biopics that requires overly expository dialogue to explain who he is and what he's up to. Hence, he's first spied next to Hopper as she says "Come on Orson, spill the beans! This "Citizen Kane" caper is about William Randolph Hearst, isn't it?" Then again, it's not like we'd recognize Purcell as Welles just from his appearance; with his hideous, crooked bowtie, bad posture, and floppy haircut, he looks like a caricature of Welles drawn by someone who didn't like him. If Louella Parsons had done this good of a job making Welles look bad after Hearst ordered her to bury "Kane," the film might never have gotten released.
Jean Guérin in "Heavenly Creatures" (1994)
Directed by Peter Jackson
The Film is… an extremely stylish and visually imaginative version of a real-life murder committed by two New Zealand teenagers. Pauline (Melanie Lynskey) and Juliet (Kate Winslet) bond over their mutual loneliness and quickly grow inseparable. The pair's favorite activity is to construct elaborate fantasies that director Peter Jackson brings to life within the film, one of which involves Orson Welles and his performance in Carol Reed's "The Third Man."
Orson Welles is portrayed as… "the most hideous man alive," according to Juliet. During a late night bonding session, she shares with Pauline her thoughts on the afterlife, a place she calls "the fourth world" that is populated by all her favorite pop culture crushes: James Mason and Mario Lanza, but not Orson Welles, because he's so gosh darn ugly. Later, the girls watch "The Third Man" at the local movie theater, where Pauline remarks (in words Jackson and co-writer Fran Walsh took right from the real girl's diary), "He was appalling! I had never in my life seen anything in the same category of hideousness!" (One shudders to think what she would have written if they'd seen "Touch of Evil" instead.) When the girls leave the theater, their fantasy life kicks in and Welles, still in black-and-white, appears before them and silently chases them through the streets and dark alleys of their town. He follows them back home, where his shadow – or perhaps, since we're talking about Welles, The Shadow – makes several clever appearances. The walls between fantasy and reality break down; Pauline and Juliet escape Welles' clutches, the two begin to kiss on a bed, then Pauline suddenly transforms into Welles and begins to make love to Juliet. Eventually, reality is restored, as the two friends, lying together in a tub, finally resolve to kill Pauline's mother. Who knows what evil lurks in the hearts of men, indeed.
Jean Guérin is… really not that hideous. I think the girls are being a bit unfair.