"V" and the genuis 80's theme song that was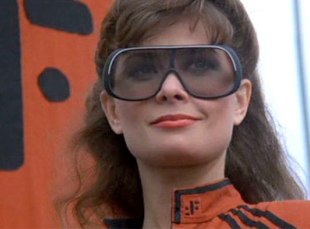 Posted by Brandon Kim on
I remember well the epic original alien invasion series "V," clad in pajamas, armed with a plastic lazer gun and a bucket of popcorn before people only made popcorn in a suspicious device called the microwave – I would stay up whenever it aired sporting a Fruit Roll-up lizard tongue. It was the best thing ever, with the nice guy 80's hero from "The Beastmaster" (Marc Singer obvs) an angry typecast sensation, Michael Ironside, and hot aliens chicks who peeled their faces off to reveal their true reptilian nature.
It also had one of the best theme songs for the time, hands down. The creepy rhythmic jam was so perfect you could almost hear the bones of puny mammals being crushed in the jaws of sentient lizard people between the pounding percussion; fleets of Motherships descending on synth waves long before Roland Emmerich crapped out "Independence Day;" and bell tolls of humanity's time running out the same year Ronnie raygun launched the Star Wars program in the death throws of nuclear holocaust paranoia.
Did you see ABC's reinvention of the series the other night? Aside from one seriously adorable alien babe it was a severe disappointment. The writing was bad and the awesome theme song so nonexistent I cannot even find any information about it from ABC or the usual sources. The only interesting development is the relation to the band MUSE and their single, "Uprising." It sounds to me like they took some amphetamines and some cues from the original to me.
Composers Joseph Harnell, who's responsible for the United Artists logo music, and Dennis McCarthy, who has done scoring for heaps of science fiction series including every Star Trek incarnation, are responsible for the original "V" scoring. I think ABC should very quickly re-implement their work.
Original "V" theme song: