Twilight of the Bad Lieutenant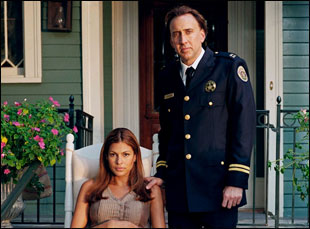 Posted by Neil Pedley on
Holiday festivities are about to kick into full gear, but you wouldn't know it looking at this angst-ridden release slate, since the closest we come to Christmas is Nicolas Cage's "Bad Lieutenant" doing a lot of "snow." Instead, planets are discovered, new moons rise and suns set.
Subscribe to the In Theaters podcast: [XML] [iTunes]
"Bad Lieutenant: Port of Call New Orleans"
Ever since Nicolas Cage was shown clinging to his "lucky crackpipe," cinephiles have been jonesing for Werner Herzog's re-imagining of Abel Ferrara's arthouse cop thriller. After months of backbiting between Ferrara, who suggested that the film's producers "burn in hell," and Herzog's admission that he had never seen the original film, audiences will finally see Cage in the shoes of Terence McDonagh, the hopped-up, hopelessly bent detective who shakes down suspects and random pedestrians on the trail of an elusive kingpin responsible for the brutal slaying of five Senegalese immigrants.
Opens in limited release.
"The Blind Side"
Having solidified her rom-com career this summer, Sandra Bullock gets more serious this fall as a feisty champion of the less fortunate in this drama from "The Rookie" writer/director John Lee Hancock, based on the early life of NFL offensive lineman Michael Oher. Bullock plays Leigh Anne Tuohy, a God-fearing Tennessean who takes the gentle giant (Quinton Aaron) off the streets of Memphis and, with the aide of her husband (Tim McGraw) and Kathy Bates' no-nonsense tutor, sets about rebuilding his shambolic education and turning him into an NFL-quality left tackle.
Opens wide.
"Broken Embraces"
Pedro Almodóvar and Penélope Cruz, one of the very best director/star partnerships, reunite once more for this genre-splicing love story, flitting from light to dark with all the trademark cinematic verve we've come to expect from the Spanish auteur and his muse. A pretzel-plotted saga of love lost and revenge sought, the story tells of Mateo Blanco (Lluís Homar), a blind filmmaker who, upon learning of the death of his former friend and producer Ernesto Martel (José Luis Gómez), is approached by the man's resentful son to write a script eviscerating his late father in fiction. The picture drifts back to the early '90s as Blanco recalls the time both he and Martel vied for the affections of a wannabe actress/call girl (Cruz). In Spanish with subtitles.
Opens in New York.
"Defamation"
With the dark shadow of the Holocaust still hanging over Israeli culture, documentary filmmaker Yoav Shamir examines the roots of anti-Semitism and tags along with a group of Jewish-American leaders and a class of Israeli high school students for a diversity of perspectives on the subject. What Shamir finds is a controversy over the victim complex that the term promotes, who it benefits and how this perceived menace has become seriously big business for those who claim to want to erase it.
Opens in New York, San Francisco and Los Angeles.
"Fix"
Documentarian Tao Ruspoli turns on his handheld camera for his first narrative feature, which not so coincidentally follows Milo and Bella, a couple of documentarians (Ruspoli and Olivia Wilde) who chaperone Milo's skeezy brother Leo (Shawn Andrews) on his final day before a court-imposed stint in rehab for their latest film. Quickly discovering that he doesn't have the money to pay for treatment (which means prison instead), the couple reluctantly dabble in drug dealing themselves to come up with the cash in a down and dirty fusion of "Go" and "The 25th Hour," all to a soundtrack of Black Prez and Ima Robot, among others.
Opens in limited release.
"Frontier of Dawn"
Veteran French helmer Philippe Garrel directs his son Louis in this throwback to the heyday of the French New Wave, a drama sprinkled with elements of the supernatural that charts the fine line between blissful intoxication and insanity. Garrel Jr stars as François, a young photographer left reeling from the suicide of Carole (Laura Smet), an actress with whom he had an affair. A year later, François is looking to marry and move on, but is plagued by visions of the ghostly Carole, beckoning him to join her in the land of the dead. In French with subtitles.
Opens in New York.
"Loot"
A real-life treasure hunt, this debut from director Darius Marder dug up the best documentary prize at last year's L.A. Film Festival and was recently nominated for a Cinema Eye Honor. With only the sketchy details of two World War II vets' less-than-reliable memory as a guide, Marder follows Lance Larson, an amateur treasure hunter, as he scours the once bombed out rural locale of an Austrian village and the dense jungles of the Philippines in search of buried riches that the soldiers plundered 60 years earlier.
Opens in New York.
"Mammoth"
Celebrated Swedish writer/director Lukas Moodysson looks to garner an international audience with this, his first English-language feature, a transcontinental affair encompassing a trio of thematically linked narratives that invites obvious comparisons to "Babel." In New York, Michelle Williams and Gael García Bernal's bored millionaire married couple all but surrender the upbringing of their child to their live-in nanny (Marife Necesito), whose presence, in turn, leaves her own children in the Philippines without her. The situation is further exasperated when Bernal's video game mogul travels to Thailand, where he comes into contact with a streetwise sex worker (Run Srinikornchot), who does what she has to in order to take care of her child. In English and Tagalog and Thai with subtitles.
Opens in limited release.
"The Missing Person"
"Revolutionary Road" star Michael Shannon stars as a well-groomed private eye hired to follow a man who was believed to have died in the 9/11 terrorist attacks in this Sundance alum written and directed by Noah Buschel. Amy Ryan, Frank Wood and Margaret Colin co-star.
Opens in New York; opens in Los Angeles on November 27th.