Top 10 of the Decade List Time: Surfing the Zeitgeist.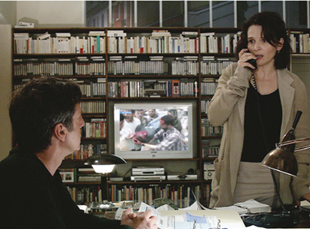 Posted by Vadim Rizov on
Welcome to the end of the decade (unless you're one of those "decades start in the year one, not zero" cranks). More specifically, welcome to the end of the decade as seen by every publication wanting to list the aughts' best films. The rundown from the UK's The Times is a peculiarly schizophrenic juxtaposition of highbrow, middlebrow and pop hits: it's probably the only list you'll see "L'Enfant," "There Will Be Blood" and "Anchorman" placed in sequence. Number two is the duo of "The Bourne Ultimatum"/"The Bourne Supremacy"; number one is "Caché."
In praising "Caché," The Times inadvertently reveals the dangers of praising something based solely on zeitgeist-y extrapolation: "The film's twin themes resonate perfectly with the defining concerns of the time: tacit national guilt about a questionable foreign policy, in the film it's France's occupation of Algeria, but it's not hard to piece together the parallels with more recent conflicts. Plus, as round-the-clock surveillance became a part of our daily lives, here was a film that captured the creeping paranoia that resulted from the eyes of unseen strangers invading private life." Much the same could be said of the Paul Greengrass-directed "Bournes": what's Matt Damon doing but running from guilt about his CIA past? What's the run through Victoria Station if not an implicit comment on the surveillance state? Oh well.
My personal pick for zeitgeistiest-of-the-zeitgeist is Ulrich Seidl's underappreciated "Import/Export," a movie so NSFW that its IMDB link will lead you to an inappropriate poster. If the whole "national guilt"/"surveillance culture" thing seems a bit overwrought to you, consider Seidl's clear-eyed gem instead (not that you can Netflix it or anything). It's got Eastern Europe and Western Europe switching countries (a nurse goes from Ukraine to Austria, a shiftless Austrian makes the reverse move) in search of economic opportunity; the whole movie's mired in prescient economic gloom. Seidl's film is specifically about the literal/symbolic of Old Europe — but a few years into our recession, the shoe fits further out. And whereas Haneke fixates on surveillance, "Import/Export" keeps an eye on webcam sex and porn, which is probably of greater concern to a lot of people who wouldn't admit it. There's more than one way to skin a zeitgeist, is all I'm saying here. Needless to say, the below trailer should not be viewed anywhere near co-workers.
[Photo: "Caché," Sony Pictures Classics, 2005.]