The Werner Herzog, Jr. awards.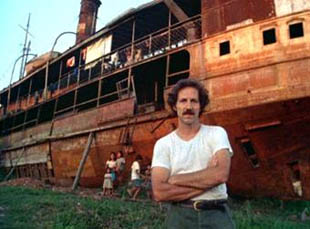 Posted by Vadim Rizov on
"The Bad Lieutenant: Port of Call New Orleans" open Friday, Werner Herzog's supposed latest exercise in unhinged lunacy. But as a colleague observed after a screening, "If you didn't know going in Herzog had made it, would you be able to tell?" I'd say probably not: there's none of his trademark stunning footage that was clearly dangerous to get. It's understandable that at 67, Herzog hasn't really endangered himself of late. But who are the filmmakers willing to take up his mantle of unusually arduous and potentially hazardous shooting? Some nominees:
Benjamin Gilmour ("Son of a Lion")
Gilmour's "Son of a Lion" — currently in limited UK release — was made after Gilmour had visited Pakistan in August 2001 and was dismayed by post-9/11 Islamophobia. So he did what any reasonable person would do: went to Pakistan to film a movie with no government permission, growing a beard and operating solely under the protection of local Pashtun tribes. Oh, and his lead actor was a former mujahadeen fighter who'd only watched one movie in his life, "Rocky III," which he saw when the CIA used it as a recruitment tour for fighting against the Soviets.
Sergey Dvortsevoy ("Tulpan")
A veteran documentary filmmaker before making 2007's "Tulpan," Dvortsevoy was perfectly willing to shoot for years, live like a nomad and subject himself to the same conditions as his Kazakh sheepherder subjects. "I think only crazy people can make this type of film" he said at the New York Film Festival last year before explaining how he filmed his lead actor helping a sheep give birth with no experience. With his inexplicably Teutonic accent and willingness to say things like "We just observed life and of course sometimes we were lucky enough that things happened — for instance tornadoes," he's the clearest Herzog heir apparent. He was lucky to get close to a tornado; sure.
Sacha Baron Cohen ("Borat," "Brüno")
Speaking of Kazakhstan… Sacha Baron Cohen is not, technically, a director, and frankly I hope he's done with the mockumentary pranking. "Borat" was more of an event than an actually funny movie, and "Brüno" was pretty dire. Nonetheless, I must congratulate him on his impressive physical courage. In the '20s, the joke behind a lot of Buster Keaton stunts was in part precisely how physically dangerous what he was doing with inanimate objects was; in the aughts, the joke is how much Baron Cohen can get away with before real live people beat the stuffing out of him. It's a trick that's not nearly as politically loaded as he'd probably like, but still impressive.
Christian Poveda ("La Vida Loca")
Posthumous division: Poveda spent 16 months getting members of of El Salvador's Mara 18 gang to trust him enough for a documentary. For his pains, he was found shot through the head in his car, probably by his very subjects.
[Photos: Herzog in "Burden of Dreams," Criterion, 1982; "Tulpan," Zeitgeist, 2008]