The Sandbox: Breathing New Life Into Old Formulas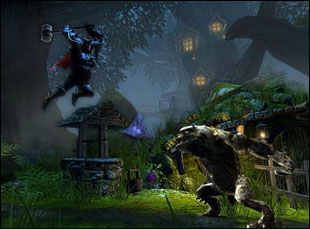 Posted by Nick Schager on
Like indie films, indie games are free to take chances that their mainstream competitors can't, but in exchange have to work with limited financial resources that put a crimp on grand stabs at novelty. Because of that, indie games tend to stake out a unique ground where convention and experimentation meet. As seen in "Braid" and the wealth of kick-ass downloads for the iPhone, they tend to take risks within the confines of recognizable genres, whether they're "Mario"-esque run-and-jumpers, puzzlers or combat-strategy games. Putting fresh twists on the familiar has seen some thrilling results from these under-the-radar works. That's definitely the case with "Trine" and "Machinarium," two excellent new indie releases that show what a bit of imagination and artistry can do for the same old formulas.
"Trine," developed by Frozenbyte and published by SouthPeak Games for the PC and, as of two weeks ago, the PS3, is about the efforts of three heroes — a wizard, a thief and a warrior — looking to locate a mysterious soul-binding object known as the Trine that holds the key to restoring their evil-plagued world. On the surface, it's just a side-scrolling platformer, one in which you navigate a character from left to right, fight similar-looking enemies, jump over chasms and onto moving ledges, and solve puzzles in order to proceed to the next stage. It's a tried-and-true recipe that's far from revolutionary, and that's part of the point — "Trine," like so many other indies that don't have a marketing budget, has to make itself immediately appealing to an audience weaned on traditional big-ticket franchises. It entices with a well-known structure, but underneath its old-hat exterior lies a deceptively rich adventure, not to mention one of the year's most purely entertaining gaming experiences.
One of the first ways "Trine" separates itself from the pack is its beauty. With deep, vibrant colors and graphics that stunningly replicate the sort of fantasy-world look of "The Lord of the Rings" (or a Terry Brooks novel come to life), Frozenbyte's game is gorgeous. That's also true of its character animations, which boast fluidity and personality, and blend seamlessly into landscapes of dark caverns, rolling hills and underwater canals. But "Trine" is more than just a pretty face — it also offers subtle tweaks to standard mechanics, like gameplay that requires you to switch back and forth between the three "Gauntlet"esque protagonists on the fly in order to complete obstacle-course puzzles custom-made for different abilities (the warrior's strength, the thief's leaping and grappling hook, the wizard's power to move objects and create others from thin air). "Trine" combines genres in order to create something at once old and new — it's innovation on a modest but inspired scale.
That's also true for "Machinarium," created by Amanita Design and available for PCs and Macs. Unlike "Trine," whose luscious 3D characters have to make their way through a 2D environment, everything in the Flash-based "Machinarium" is two-dimensional except for the story itself, which begins as a peripheral concern but soon becomes incredibly absorbing. The game puts you in control of a nameless robot who, at the outset, has been thrown out of his crumbling hometown city and must find a way back in. Once that's completed, other tasks follow, all accomplished by way of a point-and-click style that's been around since the dawn of gaming, and that, faithful to the genre's roots, is put in service of puzzles that can be screamingly challenging.
"Machinarium"'s riddles generally require you to locate key hidden items on the screen and then use, combine or manipulate them in some way in order to allow the robot to make it to the next screen, at which point a new puzzle crops up. It's a rinse-and-repeat template that's eased by a helpful hint system, which can provide both a generalized idea of what needs to be accomplished as well as a detailed diagrammatic walkthrough. Structural variety kicks in about one-third of the way through the game, when you're presented with a more wide-open landscape full of multiple, interrelated paths.