The Men who Stare at Goats, serious soundtrack, farcical direction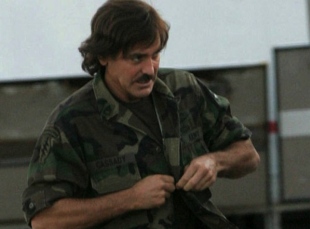 Posted by Brandon Kim on
Finally got to see "The Men Who Stare at Goats" after months of anticipation. I wrote about it back before even a trailer could be found, but the real world crazy shit the film's based on was more than enough to wet the palate. Along with the incredible cast, it was probably too much – it's not often you can anticipate a film that long and have it pay off.
I found the telling of the story to be dodgy and non-committal. Mostly, director Grant Heslov couldn't take the First Earth Battalion or the Army's psychic warfare experiments seriously. This makes for some hilarious consequences but overall depletes the film of the weight I'd hoped for. It could have used a dose of whatever author Jon Ronson (who wrote the book) was on. He struck a more ominous tone in the BBC series he directed on the true subject matter, a tone the film never took.
Still, as a farce, and as a kind of buddy movie it's a real good time. The characters are colorful and always getting jacked – two criteria for me. A prosthetic-armed girlfriend usurper is great visual comedy. Ewan McGregor sets himself up with a great line about feeling like a Hobbit in the Shire. Clooney is amusing if restrained, though again visually hilarious especially in shaggy haired flashbacks. Spacey is an ass. Bridges is brilliant as usual, perfect in the role modeled after real life looney tunes genius, Jim Channon. It all starts off well, and then the top notch soundtrack by music supe Linda Cohen ("There Will Be Blood," "Be Kind Rewind") kicks in – I dug. I'm not yet tired of "More than a Feeling" and "Goats" may use 70's rockers, Boston, better than any other film I've seen.
But composer Rolfe Kent ("Sideways," "The Lucky Ones") drops the ball. I can't readily recall a film with such a sudden quality drop off, and at such a crucial moment in the film. After all that great music, the score takes over and completely muddles the climactic scene. It screams for Syd Barrett or Nico but we get muzak. It's confounding. Go out and see this funny film, but don't expect a combo of "Three Kings" and "O Lucky Man!" as I did.