The many Middle Eastern faces of Ben Kingsley.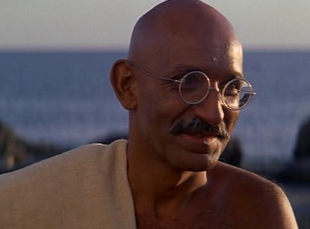 Posted by Vadim Rizov on
In his long and storied career, Sir Ben Kingsley has played Lenin, Dmitri Shostakovich, Simon Wiesenthal, Meyer Lansky, Moses and Sweeney Todd. Thanks to his half-Indian background, he's also frequently been a go-to generic Middle Easterner: one of his first parts was as a Pakistani cab-driver in Mike Leigh's 1973 TV movie "Hard Labour," Mohandas K. Gandhi in, uh, "Gandhi," and — of course — Guru Tugginmypudha in "The Love Guru."
Now, he's back to the well once more for "Taj," playing Shah Jahan, the 17th-century Indian Mughal emperor "best known," as Variety puts it, "for building the Taj Mahal" in memoriam to his late wife, Mumtaz Mahal. As Kingsley's wife Daniela Lavendar, who is set to co-star, explains, "The idea is to transform this into a 'Rome'-style adult period drama, bringing out the sex and sexuality underlying everything in that society, its adultery and jealousy." Given that Mahal died while giving birth to the couple's 14th child, I guess this means we have a lot of Ben Kingsley sex scenes to look forward to. Yay?
Sir Ben is one of our most paycheck-frenzied actors, and there's nothing wrong with that: we all need to make a living, and you can't do that without being in a few "BloodRaynes." It's ironic that the man born Krishna Pandit Bhanji, who changed his name to get more work, is perhaps best known for playing Middle Easterners but it's way more legitimate than, say, Laurence Olivier putting on blackface in the '60s to play a Sudanese Nubian. It's just one of history's little ironies that a half-Indian/British boy raised in Sheffield is just well-known enough to swing both ways without angering anyone.
And, lest we forget, Kingsley's work ethic and elasticity also led to the apparently indelible sight of the actor as Selim the Sheikh in 1985's "Harem," where he kidnaps Nastassja Kinski and adds her to the stable. No really. Clip below, and do look forward to Kingsley's turn as Nizam in next year's "Prince of Persia: The Sands of Time." With Jake Gyllenhaal as "Prince Dastan" and Alfred Molina as "Sheikh Amar"! Now that's pushing it.
[Photo: "Gandhi," Sony, 1982.]