The brothers who brought you "Bad Lieutenant."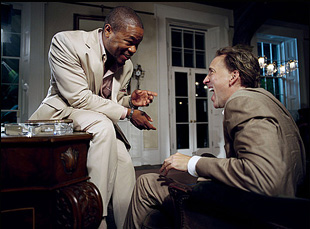 Posted by Stephen Saito on
Alan Polsky wanted to tell me a story about how Werner Herzog held a gun to his head and shattered his brother Gabe's eye socket with the butt of the pistol in the middle of shooting "Bad Lieutenant: Port of Call New Orleans," but that was just wishful thinking. "We wanted things to go crazy so that we could tell great on-set stories like [the ones] in Herzog's history," Alan said. "But unfortunately, we don't have any ones like that."
If true, the actual production would be the dullest part of "Bad Lieutenant," one of the weirdest and most indelible films of the year. (My review from Toronto is here.) And the smooth sailing would be a tribute to the Polsky brothers, two first-time producers in their 30s who saw the potential in updating Abel Ferrara's 1992 cult classic into a surreal and shockingly funny character study with Nicolas Cage as a crackpipe-carrying cop.
The sons of Chicago art dealer Maya Polsky, Alan and Gabe have quite the slate of heady projects in the works, including adaptations of "Flowers for Algernon" (rumored to star Will Smith) and the western "Butcher's Crossing" with Sam Mendes attached to direct, but they've already made waves with their first project, which proved to be an unexpected hit with critics and audiences alike during its recent festival run, and which hits theaters next week.
How did you get involved in the project, and how did Herzog?
Alan Polsky: [Producer] Ed Pressman had made the original and was looking to remake it or do a television show. Gabe and I really liked the original movie, so we said look, let us develop a screenplay based on this character, kind of like James Bond.
Gabe Polsky: We wanted to make something that we were going to be proud of. "Bad Lieutenant" has become a cult classic and we really wanted to reinvent this whole thing and turn it on its head. Everyone was trying to think outside of the box [for] different kinds of filmmakers — I was a fan of [Herzog's]. In his past, he's dealt with a lot of demented and strange characters that are unforgettable on the screen, and "Bad Lieutenant" is one of these characters. I thought his voice would totally reinvent this and he's the Bad Lieutenant of filmmakers.
Did you guys ever reach out to Abel Ferrara?
AP: We actually did reach out to Abel originally. We tried to get him on the phone with a couple of writers, it didn't go anywhere and we just wanted to move forward. It's unfortunate, because I know that Werner would've loved to have cast Abel in the movie. He wouldn't have cast Harvey [Keitel], but he would've loved to cast Abel, but Abel was really not cool with what was going on.
The Abel-Werner tiff was part of what drove interest during the summer, but there was also the leak of the international trailer that became an online sensation. Were you happy that became public?
AP: Gabe and I are mixed. I personally liked it and thought it captured great things in the movie.
GP: I just don't know if it was put together in the most exciting way. I felt it wasn't necessarily the best thing we could put out there. However, it seemed like people absolutely loved it. I heard a lot of people describe it as batshit crazy. The original one shows more that this is an insane comedy type of thing and the trailer we have now is a little ambiguous whether it's a thriller or [not]. But that's part of the movie — you're not quite sure exactly what kind of movie it is, which is the beauty of it.
AP: What genre. even, it is — that was an argument we were having at the studio for a while. When Herzog came out of the editing room, he was talking about how funny it was.
GP: The most interesting thing for us is probably how we first saw the movie in our office and did not know at all how audiences would respond.
AP: When we saw it with an audience in Venice, we realized that people would definitely get the dark comedy and the subtlety of it — because that was a concern. Nic is on the edge — he plays it straight and that's why it works so well.
Since First Look is owned by "Bad Lieutenant"'s co-producer Millennium Films, you knew the film would get distribution, but after the positive response on the festival circuit, were you disappointed that a deal with one of the major distributors didn't manifest?
GP: It's a good example of the industry right now, because we did have a major star, we had a director with a pretty big following. We have a great title, we had good critical response and with all those things, it still was extremely difficult.
Do you have any Werner anecdotes?
AP: A few days before we started shooting, in order to get to know Herzog a bit more, we took him on an alligator tour through the bayou, also to get a better feel for New Orleans. So we're feeding alligators marshmallows — who knows if the idea for the alligators and iguanas [in the film] came from there? It was fun.
"Bad Lieutenant: Port of Call New Orleans" opens in limited release on November 20th.
[Photos: Alvin "Xzibit" Joiner and Nicolas Cage; Werner Herzog, Nicolas Cage and Eva Mendes on the set of "Bad Lieutenant: Port of Call New Orleans," First Look Studios, 2009]