Surfer Blood, "Floating Vibes"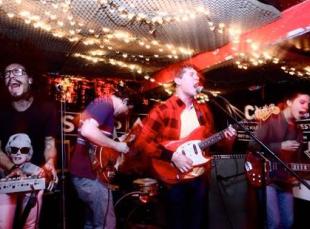 Posted by Brandon Kim on
When I think of Palm Beach Florida, good bands and the sweet sounds of early 90's pop are the furthest thing from my mind. I think of alternately sweating bullets in the humid air outside and freezing balls inside every hyper cooled, pastel colored establishment. It is a place of foreign extremes for me, and it only starts with the climate. The Palm Beach based band, Surfer Blood, however is entirely familiar – in a good way.
There is a lot of talk about their debut album, Astro Coast, and it's early-era Weezer sensibilities. There's no denying that, and I wouldn't want to, but just past the first two singles "Swim" and more recently "Floating Vibes," the album gives way to a sound with more depth than that. Indeed, I hear echos of one of (if not the most) important band from the early 90's all over Astro Coast. The deeply strange, wildly diverse, but so very pop, Unrest, helmed by mad genius Mark Robinson. I wish I could offer any number of these tracks off this album for you to download, but you'll just have to do that on your own to hear the moody jam "Harmonix," or the spiral stairs Pavement style guitars of "Anchorage." The weirdo "Twin Peaks" sounds like Mark Robinson singing with a Rivers Cuomo chorus and a heap of nostalgia.
Astro Coast debuts January 19 on Kanine.
Check out the opening track, "Floating Vibes."

Download "Floating Vibes" by Surfer Blood.