Spiritualized, pop these pills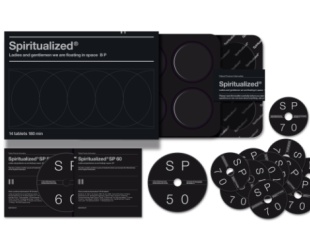 Posted by Brandon Kim on
I don't think Ladies and Gentlemen We Are Floating In Space is the most important nor the most beautiful Spiritualized album. Their first one,Lazer Guided Melodies holds the top spot for me as a bridge between the itchy high of their roots in Spacemen 3 and the warm bliss of their second album, Pure Phase – which is so gorgeous I can barely listen to it without coming apart. But Ladies and Gentlemen seems to be what brought them into the consciousness of the mainstream so for it's legacy (and use in the film "Vanilla Sky") it may have come to be the band's defining album.
It's also the album that All Tomorrow's Parties creator, Barry Hogan, asked Spiritualized mainline, Jason Pierce, to play for ATP's Don't Look Back concert series. As a result there is also a prescription strength album reissue with some unreleased tracks.
A collector's edition is presented as a pillbox, complete with twelve 3″ Mini CD's, one for each track in a foil blister pack. 2 regular discs contain alternate versions and unreleased material. For those who want to covet but not touch, each one comes with a code to download the original album as MP3's so you don't have to ever break the foil blister pack pillbox.
In the absence of real health care reform, this might be as good as it gets. If you're a Republican take two tax cuts and call your investment banker in the morning. For everyone else, here's your dose of Spiritualized.

Spiritualized – "Ladies And Gentlemen We Are Floating In Space" (title track)
FYI. Act now and you can get your collector's edition personalized with an inscription on the box. Offer ends midnight PST, dig it.