So sex doesn't sell, after all?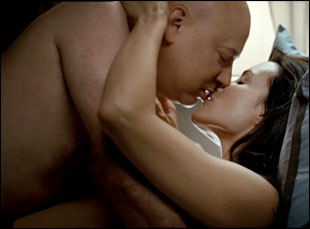 Posted by Vadim Rizov on
When's the last time you saw a big studio movie that had a sex scene? A real one — you know, one with something more graphic than what you'd fine in "Sex And The City"?
Off the top of my head, there's "A History of Violence," and then Keira Knightley seems pretty into getting naked, but I know for a fact no one saw "Domino" but me. But yeah, the whole idea that Americans are more down with violence than sex in their movies hardly seems worth repeating.
So what to make of a new study that analyzed 914 films released widely between 2001 and 2005 and concluded "sex and nudity do not, on the average, boost box office performance, earn critical acclaim or win major awards"? The study, which ran in the November issue of Psychology of Aesthetics, Creativity and the Arts, is titled "Sex Doesn't Sell — Nor Impress."
There's an odd tone to the quotes run in Miller-McCune. Researcher Dean Keith Siminton suggests that "sex is cheap with respect to production costs. Female actors can be hired for less than male actors, and can be urged (i.e. coerced?) into displaying more sexual nudity/activity; and for various reasons, sex scenes may be less expensive to shoot. And yet, mainstream cinema still can't get an additional buck out of the practice."
I'm no research scientist, but I do know enough about the basic ideas behind causation and correlation to feel like this is kind of specious. Sex and casual nudity are exceedingly rare these days. A little Megan Fox cleavage to lighten things up? Sure — as in the good old advertising days, to sell a car you need a pretty girl — but not even "Jennifer's Body" (which is all about sex) was going to go there.
On the arthouse side, there have definitely been sex-filled failures. But it's possible that "9 Songs" flopped because no one wanted to watch a relation boiled down to just fucking and murky show-attendance, and that "Lust, Caution" flopped because no one had the energy for nearly three hours of WWII China sex and intrigue. Meanwhile, the "Sex and the City" movie was very popular indeed, "graphic nudity" and all. And it doesn't get any more real than that title. So now what?
It's true that the '60s sexual revolution hung over into the '70s and '80s on screen with a lot of casual, incidental nudity brightening up PG movies for pre-pubescent boys everywhere (see "Logan's Run," "16 Candles," hell, "Clash of the Titans") and no one seemed to get too hung up about it. It's equally true that, for whatever reason, that's something most families wouldn't put up with these days.
But it's also true that much of the internet revolves around the promise of sexual content — think of blogs, with their after-the-jump teases about scandals and sex tapes, or the coy "lifestyle" stories on newspaper websites desperate for hits. And, of course, there's the ever-enduring porn industry.
Maybe it's really not true that "sex sells" — but wink-wink raunch totally does. What does that mean? It means that you can't really draw conclusions from a climate where most movies involving sex scenes are inevitably up to something "serious," and therefore commercially doomed from the start.
[Photo: "Sex and the City," Warner Bros., 2008; "Clash of the Titans," MGM, 1981]